John Markowski is the author of the award-winning Obsessive Neurotic Gardener blog. He published his first book Perennials Through the Seasons in 2017. My gardens have been featured a number of times on the Fine Gardening website. He is currently a featured writer on Medium where he writes about such non-gardening topics as family, parenting, aging, and baseball. His most recent book is Seed, Grow, Love, Write.

John will be appearing at the Lahaska Bookshop on October 18th, 2018 at 6:30 pm and was good enough to answer a few questions for us.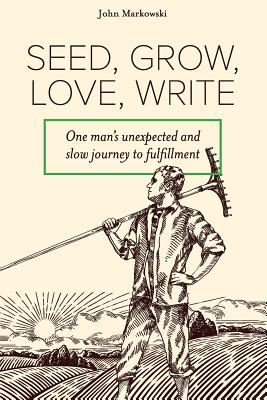 What inspired you to write Seed, Grow, Love, Write?
I've always found life's smaller and often mundane moments to be fascinating. As I started writing about those moments, I realized they were the building blocks to who I have become as a writer and as a person. When weaved together, they told a cohesive story.

What was the first book that you remember really made you want to write a book of your own?
This is going to sound odd, but no book inspired me. I became obsessed with the mechanations of stand up comedy and the idea of storytelling in a different way. Writing this book became my way of telling stories with the sensibility of a comic. And no dealing with stagefright.

What do you hope people take away from the book?
That we can find our passion and who we are if we stop trying so hard and look closer at what life has already subtly shown us.

Who are your favorite writers or your favorite books?
I love Chuck Klosterman and any writer who adeptly mixes in pop culture and I've read Big Magic by Elizabeth Gilbert a dozen times because I'm pretty sure she wrote it specifically for me.

What book or books are you currently reading?
I just finished The Subtle Art of Not Giving a [Blank] and I've got 3 or 4 gardening books I'm rotating through on a daily basis.

What is your ideal writing environment?
My couch with no one home.

Do you listen to music while you write? If so, what do you like to listen to?
I do. I rotate between very loud and aggressive when I need to concentrate (strange but true, my white noise) and Radiohead to pull from my more creative side.

If you could be any kind of animal, what kind of animal would you be, and why?
Easy one, a squirrel. I could easily maneuver my way through the world observing and everyone would leave me alone.

If you could only read one book for the next ten years, what would it be and why?
Where The Wild Things Are. No better escape for me than that world.

If you could be a fictional character, who would you want to be?
Encyclopedia Brown.

3 dinner guests, dead or living.
Kurt Cobain, Mr. Rogers and my grandfather.

Are you working on another book? If so, what type of book are you working on?
I am. Two actually. One is about the subtle art of parenting and the other is about the pains and joys of reaching true middle age.