VIRTUAL EVENT: Tom Papa // You're Doing Great!
Watch his Netflix special HERE.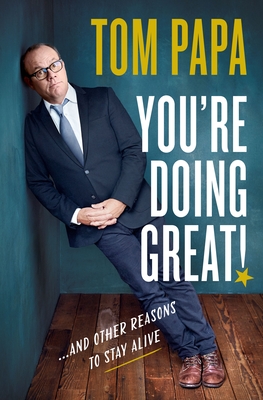 Comedian and Live from Here head writer Tom Papa, author of Your Dad Stole My Rake, tackles the modern condition in a heartwarming group of short essays.
Tom Papa is a little worried about you. You seem stressed, overworked, and, frankly, a little mixed up.
Everyone is fighting an overwhelming feeling that things are getting worse, that we should be doing more, that we're not good enough. Well, life isn't perfect. There have always been problems and there always will be. You can fight for the things you believe in, you can work really, really hard, but you shouldn't lose track of the fact that while you're doing all that, life is flying by at lightning-fast speed. If you actually take a breath and look around you'll realize you're actually doing great.
Here's the thing: We live in an amazing time filled with airplanes, scooters, and peanut butter cups. We have air conditioning, blenders, and martini shakers. It's time to refocus, enjoy it all, and stop waiting for something better! Relax with comedian and Live from Here writer and performer Tom Papa as he explores his favorite subjects in 75 essays, including:
You Don't Have to Live Your Best Life
Don't Open the Mail
I'm So Baked
I Love Your Love Handles
Don't Go Tubing
Shut Up and Eat
Recalibrate, turn off your device, and open your eyes to a better reality: You're doing great!
---
ABOUT THE AUTHOR
TOM PAPA is a comedian known for his work in film, television, and radio as well as on the live stage. He is a frequent panelist on NPR's Wait Wait Don't Tell Me, a writer and performer on the public radio variety show Live from Here (the latest incarnation of the legendary radio show, A Prairie Home Companion), the host of a daily SiriusXM show, What a Joke with Papa and Fortune, and has recorded four stand-up specials that are currently streaming. When not touring the country, Tom lives in Los Angeles and bakes bread with his wife, daughters, cat, and somewhat loyal dog.

$27.99
ISBN: 9781250240392
Availability: On Our Shelves Now
Published: St. Martin's Press - May 12th, 2020
---
$17.99
ISBN: 9781250215598
Availability: On Our Shelves Now
Published: St. Martin's Griffin - May 21st, 2019
---
---
GENERAL EVENT NOTES
---
WAITING IN LINE
At some of our well-attended or off-site ticketed events, you can expect to stand in line for upwards of two hours and sometimes longer. If you have an issue that prevents you from standing in line for that length of time, please
contact us immediately
so that we can better accommodate you at the event.
---
PARKING
Limited parking available at the Doylestown Bookshop, but street parking available in surrounding neighborhoods. In addition, free parking available at the Bucks County Parking Garage near the Courthouse on Broad Street. Free day and evening parking. Entrance on Broad Street. Additional entrances on Union and Doyle Streets. More information about parking in Doylestown can be found at
http://www.doylestownborough.net/visitors/parking
.
---
CAN'T MAKE THE EVENT, BUT STILL WANT A SIGNED COPY?
If you can't come to an event and still want an autographed copy of the book, you may purchase titles in advance either in the store, over the phone (215.230.7610), or through our website. When buying online, simply use the checkout comments field to indicate that you would like us to request the author's signature at our event before shipping it to you. Note: If you can't make it to the event, we cannot offer any personalization, only the authors signature.
---
QUESTIONS?
All event-related inquiries can be sent to our Director of Marketing, Events & Schools, Krisy Elisii, at krisyparedes@gmail.com. The views expressed through the books or authors featured online or in-store are not those of the Doylestown or Lahaska Bookshops.