VIRTUAL EVENT: Tiffany Schmidt, Diana Peterfreund, Amy Spalding
Tuesday, May 19th at 7:00 p.m.
Instagram Live Event with
Tiffany Schmidt in conversation with Diana Peterfreund and Amy Spalding
You can watch Instagram live on your phone or tablet or on your home computer if you have the browser extension IG Stories for Instagram. Click HERE to download that extension.
---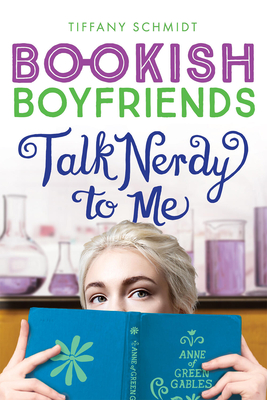 ABOUT THE BOOK:
Eliza takes center stage in this swoon-worthy third installment of the Bookish Boyfriends series

Eliza Gordon-Fergus is an expert rule-follower. She has to be; her scientist parents dictate her day-to-day decisions and forbid her from dating. Which is why she finds Curtis Cavendish maddening. He's never punished for his class-clown antics—and worse, his mischief actually masks brilliance. Like, give-Eliza-a-run-for-valedictorian brilliance.
When Eliza reads Frankenstein for English class, she's left feeling more like an experiment than a daughter. Curtis agrees to trade her Anne of Green Gables under one condition: She has to beat him at the science fair. Eliza knows they're supposed to be competing, but the more time they spend together, the more she realizes she's in over her head. Because one thing's certain about Curtis: He makes Eliza want to break all the rules.
---
ABOUT THE AUTHORS
Tiffany Schmidt is a former sixth-grade teacher. She lives in Pennsylvania with her family and spends her time baking cookies, chasing her sons and puggles around their backyard, and writing the kissing scenes first. Tiffany is the author of the Bookish Boyfriends series—A Date with Darcy, The Boy Next Story, and Talk Nerdy to Me—as well as four other books for young adults.
Amy Spalding is the author of several novels for teens, including Kissing Ted Callahan (and Other Guys) and The Summer of Jordi Perez (and the Best Burger in Los Angeles), which earned a starred review from Kirkus. She lives in Los Angeles.
Diana Peterfreund is the author of 13 books for adults, teens, and children, including the Secret Society Girl series, the Killer Unicorn series, For Darkness Shows the Stars, and Omega City. Her books have received starred reviews from Booklist, School Library Journal, and VOYA, and her books have been named in Amazon's Best Books of the Year. She lives outside Washington, DC, with her family.
---
GENERAL EVENT NOTES
---
VIRTUAL EVENTS
We host our virtual author events on
CrowdCast
. The majority of our events are free to view unless otherwise noted and archived on our
YouTube channel
. Virtual events are easy to attend! Viewers do not have to worry about being on camera or having access to a microphone and have the ability to chat with the authors through live chat and ask questions through CrowdCast during the event by typing them into the Q&A field. Visit our CrowdCast page to
learn more>>
.
---
WAITING IN LINE
At some of our well-attended or off-site ticketed events, you can expect to stand in line for upwards of two hours and sometimes longer. If you have an issue that prevents you from standing in line for that length of time, please
contact us immediately
so that we can better accommodate you at the event.
---
PARKING
Limited parking available at the Doylestown Bookshop, but street parking available in surrounding neighborhoods. In addition, free parking available at the Bucks County Parking Garage near the Courthouse on Broad Street. Free day and evening parking. Entrance on Broad Street. Additional entrances on Union and Doyle Streets. More information about parking in Doylestown can be found at
http://www.doylestownborough.net/visitors/parking
.
---
CAN'T MAKE THE EVENT, BUT STILL WANT A SIGNED COPY?
If you can't come to an event and still want an autographed copy of the book, you may purchase titles in advance either in the store, over the phone (215.230.7610), or through our website. When buying online, simply use the checkout comments field to indicate that you would like us to request the author's signature at our event before shipping it to you. Note: If you can't make it to the event, we cannot offer any personalization, only the authors signature.
---
QUESTIONS?
All event-related inquiries can be sent to our Director of Marketing, Events & Schools, Krisy Elisii, at krisyparedes@gmail.com. The views expressed through the books or authors featured online or in-store are not those of the Doylestown or Lahaska Bookshops.