VIRTUAL EVENT: Mr. Fish // Long Story Short
Wednesday, August 26th at 7:00 PM
Zoom Event with Mr. Fish, Siri Dokken, and Keith Henry Brown
Join us in welcoming Mr. Fish, Siri Dokken, and Keith Henry Brown Wednesday, August 26 at 7:00 PM EST as they discuss LONG STORY SHORT, a collection of classic works reimagined by
Mr. Fish and a very talented group of painters, illustrators, graphic designers, and political cartoonists.
---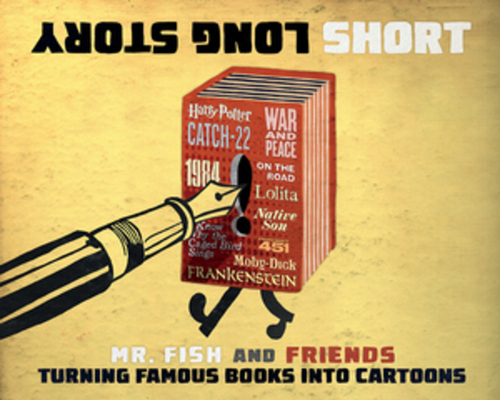 The Catcher in the Rye. Lolita. Moby-Dick. Infinite Jest. I Know Why the Caged Bird Sings. A Room of One's Own. Native Son. These are but a handful of classic works spectacularly distilled by Mr. Fish and a very talented group of painters, illustrators, graphic designers, and political cartoonists into succinct snapshots that are at times funny, sad, inspiring, rude, crude, beautiful, profound, stomach-turning, and mind-blowing.
Includes original artwork from: Mr. Fish, Ted Rall, Stephanie McMillan, Sarah Awad, Eli Valley, Wes Tyrell, Tamara Knoss, Keith Henry Brown, Sam Henderson, Lodi Marasescu, Surag Ramachandran, Tami Knight, Eric J. Garcia, Marissa Dougherty, Siri Dokken, John G., Andy Singer, Tara Seibel, Gary Dumm, Clare Kolat, Nate Ulsh, Benjamin Slyngstad, Ron Hill, JP Trostle, John Kovaleski, and Beth McCaskey.
---
ABOUT THE AUTHOR
MR. FISH lives in Philadelphia, Pennsylvania. Occasionally, he laughs his head off. His mother has no idea what he's up to. She cries easily. For more information, date him.
---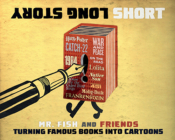 $17.95
ISBN: 9781617757969
Availability: Usually Arrives to Store in 1-5 Days
Published: Akashic Books - July 7th, 2020
---
---
GENERAL EVENT NOTES
---
VIRTUAL EVENTS
We host our virtual author events on
CrowdCast
. The majority of our events are free to view unless otherwise noted and archived on our
YouTube channel
. Virtual events are easy to attend! Viewers do not have to worry about being on camera or having access to a microphone and have the ability to chat with the authors through live chat and ask questions through CrowdCast during the event by typing them into the Q&A field. Visit our CrowdCast page to
learn more>>
.
---
WAITING IN LINE
At some of our well-attended or off-site ticketed events, you can expect to stand in line for upwards of two hours and sometimes longer. If you have an issue that prevents you from standing in line for that length of time, please
contact us immediately
so that we can better accommodate you at the event.
---
PARKING
Limited parking available at the Doylestown Bookshop, but street parking available in surrounding neighborhoods. In addition, free parking available at the Bucks County Parking Garage near the Courthouse on Broad Street. Free day and evening parking. Entrance on Broad Street. Additional entrances on Union and Doyle Streets. More information about parking in Doylestown can be found at
http://www.doylestownborough.net/visitors/parking
.
---
CAN'T MAKE THE EVENT, BUT STILL WANT A SIGNED COPY?
If you can't come to an event and still want an autographed copy of the book, you may purchase titles in advance either in the store, over the phone (215.230.7610), or through our website. When buying online, simply use the checkout comments field to indicate that you would like us to request the author's signature at our event before shipping it to you. Note: If you can't make it to the event, we cannot offer any personalization, only the authors signature.
---
QUESTIONS?
All event-related inquiries can be sent to our Director of Marketing, Events & Schools, Krisy Elisii, at krisyparedes@gmail.com. The views expressed through the books or authors featured online or in-store are not those of the Doylestown or Lahaska Bookshops.