VIRTUAL EVENT: Clare Beams // The Illness Lesson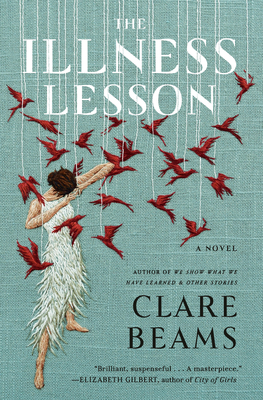 Sarah Waters meets Red Clocks in this searing novel, set at an all-girl school in 19th century Massachusetts, which probes the timeless question: who gets to control a woman's body and why

The year is 1871. In Ashwell, Massachusetts, at the farm of Samuel Hood and his daughter, Caroline, a mysterious flock of red birds descends. Samuel, whose fame as a philosopher has waned in recent years, takes the birds' appearance as an omen that the time is ripe for his newest venture. He will start a school for young women, guiding their intellectual development as he has so carefully guided his daughter's. Despite Caroline's misgivings, Samuel's vision--revolutionary, as always; noble, as always; full of holes, as always--takes shape.

It's not long before the students begin to manifest bizarre symptoms. Rashes, fits, headaches, verbal tics, night wanderings. In desperation, the school turns to the ministering of a sinister physician--based on a real historic treatment--just as Caroline's body, too, begins its betrayal. As the girls' conditions worsens, long-buried secrets emerge, and Caroline must confront the all-male, all-knowing authorities around her, the ones who insist the voices of the sufferers are unreliable. In order to save herself, Caroline may have to destroy everything she's ever known.

Written in intensely vivid prose and brimming with psychological insight, The Illness Lesson is a powerful exploration of women's bodies, women's minds, and the time-honored tradition of doubting both.
---
ABOUT THE AUTHOR
CLARE BEAMS is the author of the story collection We Show What We Have Learned, which won the Bard Prize and was a Kirkus Best Debut of 2016, as well as a finalist for the PEN/Robert W. Bingham Prize, the New York Public Library's Young Lions Fiction Award, and the Shirley Jackson Award. With her husband and two daughters, she lives in Pittsburgh, where she teaches creative writing, most recently at Carnegie Mellon University and the Pittsburgh Center for the Arts.

$26.95
ISBN: 9780385544665
Availability: On Our Shelves Now
Published: Doubleday - February 11th, 2020
---

$17.95
ISBN: 9781940596143
Availability: On Our Shelves Now
Published: Lookout Books - October 25th, 2016
---
---
GENERAL EVENT NOTES
---
WAITING IN LINE
At some of our well-attended or off-site ticketed events, you can expect to stand in line for upwards of two hours and sometimes longer. If you have an issue that prevents you from standing in line for that length of time, please
contact us immediately
so that we can better accommodate you at the event.
---
PARKING
Limited parking available at the Doylestown Bookshop, but street parking available in surrounding neighborhoods. In addition, free parking available at the Bucks County Parking Garage near the Courthouse on Broad Street. Free day and evening parking. Entrance on Broad Street. Additional entrances on Union and Doyle Streets. More information about parking in Doylestown can be found at
http://www.doylestownborough.net/visitors/parking
.
---
CAN'T MAKE THE EVENT, BUT STILL WANT A SIGNED COPY?
If you can't come to an event and still want an autographed copy of the book, you may purchase titles in advance either in the store, over the phone (215.230.7610), or through our website. When buying online, simply use the checkout comments field to indicate that you would like us to request the author's signature at our event before shipping it to you. Note: If you can't make it to the event, we cannot offer any personalization, only the authors signature.
---
QUESTIONS?
All event-related inquiries can be sent to our Director of Marketing, Events & Schools, Krisy Elisii, at krisyparedes@gmail.com. The views expressed through the books or authors featured online or in-store are not those of the Doylestown or Lahaska Bookshops.