VIRTUAL BOOK CLUB: Infinite Possibilities
Facilitated by The Possibility Coaches, Chris Pattay & Jon Satin, and hosted by The Doylestown Bookshop. This book club meets the 2nd Thursday of each month from 6:30-8:00 pm. This is a great opportunity to meet like-minded people and enjoy lively discussion. The books selected each month will be specifically related to the personal growth and development genres. Come and share your wisdom as well as receive new insights.
Already have the book? Please join us. Don't have the book? That's okay. Pre-purchase it by contacting the Doylestown Bookshop at 215-230-7610.
Join anytime. Open to everyone.
This month's book club is meeting virtually, here is the zoom meeting information:
---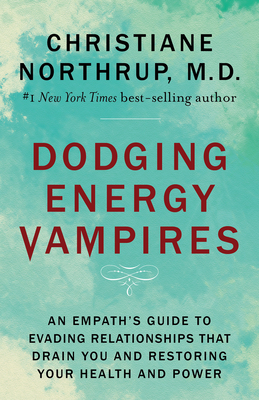 Highly sensitive people—or empaths—see life through the eyes of compassion and caring. They were born that way. As a result, they carry a tremendous amount of inner light. But they're also the favored prey of "vampires" who feed off empaths' energy and disrupt their lives on every level—physical, emotional, and financial. In Dodging Energy Vampires, Christiane Northrup, M.D., draws on the latest research in this exciting new field, along with stories from her global community and her own life, to explore the phenomenon of energy vampires and show us how we can spot them, dodge their tactics, and take back our own energy. You'll delve into the dynamics of vampire-empath relationships and discover how vampires use others' energy to fuel their own dysfunctional lives. Once you recognize the patterns of behavior that mark these relationships, you'll be empowered to identify the vampires in your life too. In these pages, Dr. Northrup opens up a toolbox full of techniques you can use to leave these harmful relationships behind; heal from the darkness they've cast over your mind, body, and spirit; and let your own light shine. In the end, you may find yourself healthier, happier, wealthier, and more vibrant than you ever believed possible.
All book club selections are 20% off for book club members.
The Possibility Coaches Jon Satin and Chris Pattay are known as "The Positive Change Experts." They are Life, Relationship and Business Coaches. Chris and Jon assist people to live their lives authentically to the core of their being. Their focus is creating positive results for individuals over 40 with life's challenges and transitions. Since founding Possibility Coaches in 2002, they have been actively exploring the human experience and condition and empowering individuals and business owners worldwide to live a life of meaning, passion and purpose. Jon and Chris are the authors of "Living an Inspired, Empowered and Joy-filled Life: 365 Daily Tips to Get You There!" To learn more about them, visit:
www.PossibilityCoaches.com
or call 215-794-0135.

$16.99

ISBN: 9781401954796
Availability: On Our Shelves Now
Published: Hay House Inc. - December 31st, 2019
---
---
GENERAL EVENT NOTES
---
VIRTUAL EVENTS
We host our virtual author events on
CrowdCast
. The majority of our events are free to view unless otherwise noted and archived on our
YouTube channel
. Virtual events are easy to attend! Viewers do not have to worry about being on camera or having access to a microphone and have the ability to chat with the authors through live chat and ask questions through CrowdCast during the event by typing them into the Q&A field. Visit our CrowdCast page to
learn more>>
.
---
WAITING IN LINE
At some of our well-attended or off-site ticketed events, you can expect to stand in line for upwards of two hours and sometimes longer. If you have an issue that prevents you from standing in line for that length of time, please
contact us immediately
so that we can better accommodate you at the event.
---
PARKING
Limited parking available at the Doylestown Bookshop, but street parking available in surrounding neighborhoods. In addition, free parking available at the Bucks County Parking Garage near the Courthouse on Broad Street. Free day and evening parking. Entrance on Broad Street. Additional entrances on Union and Doyle Streets. More information about parking in Doylestown can be found at
http://www.doylestownborough.net/visitors/parking
.
---
CAN'T MAKE THE EVENT, BUT STILL WANT A SIGNED COPY?
If you can't come to an event and still want an autographed copy of the book, you may purchase titles in advance either in the store, over the phone (215.230.7610), or through our website. When buying online, simply use the checkout comments field to indicate that you would like us to request the author's signature at our event before shipping it to you. Note: If you can't make it to the event, we cannot offer any personalization, only the authors signature.
---
QUESTIONS?
All event-related inquiries can be sent to our Director of Marketing, Events & Schools, Krisy Elisii, at krisyparedes@gmail.com. The views expressed through the books or authors featured online or in-store are not those of the Doylestown or Lahaska Bookshops.