Lahaska: Philadelphia Big 5 Book Signing with M. Earl Smith
Meet the author of a new book that highlights the basketball programs of Philadelphia's Big 5 Schools
Sunday, November 4, 1:00 pm at the Lahaska Bookshop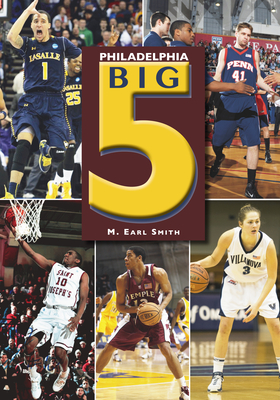 About Philadelphia Big 5
In the City of Brotherly Love, there are few things taken as seriously as local bragging rights. In a city that lives and dies with its sports heroes, basketball is no exception. This book traces the lore and history of the Philadelphia Big 5, an informal basketball league that started play in 1955 that features five of the area's most prestigious colleges: LaSalle University, Temple University, Saint Joseph's University, Villanova University, and the University of Pennsylvania. In a sport that has become a nationwide sensation, the spirit of Philadelphia lives on, led by the most loyal and passionate fans in the world.
Reserve your copy of Philadelphia Big 5
About the Author
M. Earl Smith, 34, is a proud alum and fan of the sports programs at the University of Pennsylvania. Born in Thompson, George, Smith grew up in Tennesse and has lived in Texas and Ohio before moving to Philadelphia in 2015.
A 2017 graduate of the University of Pennsylvania, Smith studied history, creative writing (for which he was awarded honors) and English Literature, with a particular focus on manuscripts and archival work. He graduated in 2015 with his associates of arts in Liberal Arts from Chatfield College, and is currently pursuing a Master of Fine Arts in creative writing from the Solstice program at Pine Manor College in Chestnut Hill, MA.
Smith is the author of eight full-length book works, including five volumes with Arcadia Publishing. He has also authored two children's books and a novel, in addition to publications of various short stories, poems, essays, news articles, book reviews, nonfiction essays, and transcriptions. When not writing, Smith's hobbies include teaching (which he does at both Rowan University and Harcum College), spending time with his two children, Nicholas and Leah, and playing with his Shetland Sheepdog, Che.
He hopes that this work will record and establish the history of the Philadelphia Big 5. Given Villanova's recent success, and the overall historical success of the teams in the Big 5, Smith hopes the legacy and future of each squad will be preserved in such a way that does their storied history justice.
Event date:
Sunday, November 4, 2018 - 1:00pm