Lahaska: Author Event // Frank Murphy & Kayla Harren
Friday, November 8th at 6:00 pm
Lahaska Bookshop
Book Signing with Frank Murphy & Kayla Harren
Come out to the Lahaska Bookshop for a special Kickoff to the Holidays with author Franky Murphy and illustrator Kayla Harren, who will be at the bookshop to sign copies of their new picture book, A BOY LIKE YOU.
---
ABOUT THE BOOK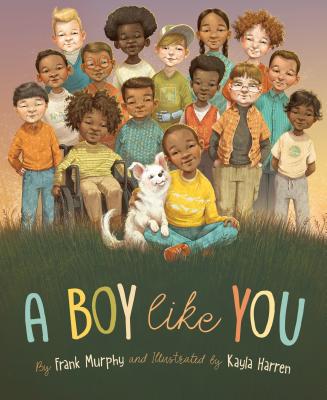 There's more to being a boy than sports, feats of daring, and keeping a stiff upper lip. A Boy Like You encourages every boy to embrace all the things that make him unique, to be brave and ask for help, to tell his own story and listen to the stories of those around him. In an age when boys are expected to fit into a particular mold, this book celebrates all the wonderful ways to be a boy.
---
ABOUT THE AUTHOR & ILLUSTRATOR
FRANK MURPHY is a teacher who writes and a writer who teaches. He has taught a wide variety of grades at the elementary for more than 26 years. A history buff, former basketball coach & Sixers fan, and popular speaker, Frank is the author of many fun historical fiction/biography books for young readers, including several popular Step into Reading History Readers - including the Oppenheim Toy Portfolio 2006 Best Book Award Winner Ben Franklin & the Magic Squares. His newest picture book is A Boy Like You (July 2019) illustrated by Kayla Harren and published by Sleeping Bear Press. A Boy Like You is a loving tribute to boys, celebrating all the wonderful ways to be a boy and encouraging readers to be the truest version of themselves—while embracing empathy and kindness. As a teacher and father, Frank is committed to helping expand the definition of what it means to be a boy and a man, this is an important and timely message for anyone who cares about today's male youth.
KAYLA HARREN
graduated from the School of Visual Arts in New York City with a BFA in Illustration. She love animals, nature, volleyball, hiking, and reading, and lives in Minnesota with her amazing tattoo artist husband, Peter Harren, and our sweet dog, Tina.
---
GENERAL EVENT NOTES
---
WAITING IN LINE
At some of our well-attended or off-site ticketed events, you can expect to stand in line for upwards of two hours and sometimes longer. If you have an issue that prevents you from standing in line for that length of time, please
contact us immediately
so that we can better accommodate you at the event.
---
PARKING
Limited parking available at the Doylestown Bookshop, but street parking available in surrounding neighborhoods. In addition, free parking available at the Bucks County Parking Garage near the Courthouse on Broad Street. Free day and evening parking. Entrance on Broad Street. Additional entrances on Union and Doyle Streets. More information about parking in Doylestown can be found at
http://www.doylestownborough.net/visitors/parking
.
---
CAN'T MAKE THE EVENT, BUT STILL WANT A SIGNED COPY?
If you can't come to an event and still want an autographed copy of the book, you may purchase titles in advance either in the store, over the phone (215.230.7610), or through our website. When buying online, simply use the checkout comments field to indicate that you would like us to request the author's signature at our event before shipping it to you. Note: If you can't make it to the event, we cannot offer any personalization, only the authors signature.
---
QUESTIONS?
All event-related inquiries can be sent to our Director of Marketing, Events & Schools, Krisy Elisii, at krisyparedes@gmail.com. The views expressed through the books or authors featured online or in-store are not those of the Doylestown or Lahaska Bookshops.