Lahaska: Laura Sassi // Children's Book Event
Saturday, November 2nd at 1:00 pm
Lahaska Bookshop
Book Signing with Laura Sassi
Come out to the Lahaska Bookshop for a Saturday Signing with Laura Sassi, the author of the delightful picture book, LOVE IS KIND, a heartwarming story about Little Owl who hopes to buy his grammy a heart-shaped box of chocolates for her birthday. Awwwww.
---
ABOUT THE BOOK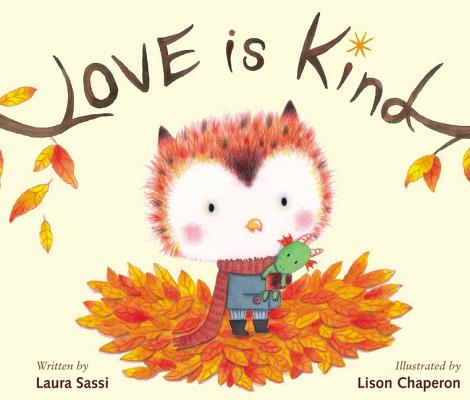 Love Is Kind
is a heartwarming story about Little Owl who hopes to buy his grammy a heart-shaped box of chocolates for her birthday. On his quest for the chocolates, he's thwarted at every turn, but ends up discovering the real meaning of love as described in 1 Corinthians 13. Told in simple prose by bestselling author Laura Sassi, this heartfelt and humorous picture book is a sweet reminder that real love isn't found in a box - even one filled with chocolates. Love Is Kind takes a charming and gentle approach to teaching kids the true meaning of love, while celebrating the bonds that kids have with their grandparents, and the many forms that love and happiness can take.
---
ABOUT THE AUTHOR
Laura Sassi has a passion for telling stories in prose and rhyme. She is the author of four picture books: GOODNIGHT, ARK (Zonderkidz, 2014), GOODNIGHT, MANGER (Zonderkidz, 2015), DIVA DELORES AND THE OPERA HOUSE MOUSE (Sterling, 2018) which was featured on BBC's Cbeebies Bedtime Stories and won First Honors in the 2019 Best in Rhyme Award, and her newest release LOVE IS KIND (Zonderkidz, 2018) - now in board book too! She lives in New Jersey with her husband, two children, and a black Cockapoo named Sophie.
---
GENERAL EVENT NOTES
---
WAITING IN LINE
At some of our well-attended or off-site ticketed events, you can expect to stand in line for upwards of two hours and sometimes longer. If you have an issue that prevents you from standing in line for that length of time, please
contact us immediately
so that we can better accommodate you at the event.
---
PARKING
Limited parking available at the Doylestown Bookshop, but street parking available in surrounding neighborhoods. In addition, free parking available at the Bucks County Parking Garage near the Courthouse on Broad Street. Free day and evening parking. Entrance on Broad Street. Additional entrances on Union and Doyle Streets. More information about parking in Doylestown can be found at
http://www.doylestownborough.net/visitors/parking
.
---
CAN'T MAKE THE EVENT, BUT STILL WANT A SIGNED COPY?
If you can't come to an event and still want an autographed copy of the book, you may purchase titles in advance either in the store, over the phone (215.230.7610), or through our website. When buying online, simply use the checkout comments field to indicate that you would like us to request the author's signature at our event before shipping it to you. Note: If you can't make it to the event, we cannot offer any personalization, only the authors signature.
---
QUESTIONS?
All event-related inquiries can be sent to our Director of Marketing, Events & Schools, Krisy Elisii, at krisyparedes@gmail.com. The views expressed through the books or authors featured online or in-store are not those of the Doylestown or Lahaska Bookshops.