Lahaska: Creative Reading Book Club
There will be a discussion revolving around informative fiction and non-fiction. Although the group consists mainly of "matured" adults, folks of all ages are welcome. Meetings will be on the second or first Friday of every month.
---
Meeting: Friday, March 6th at 1:00pm (Lahaska Bookshop)
---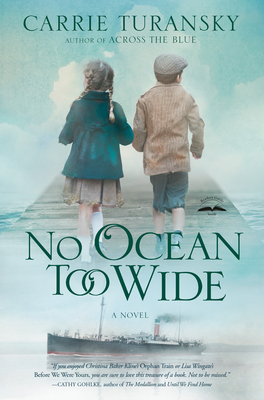 Between the years of 1869 to 1939 more than 100,000 poor British children were sent across the ocean to Canada with the promise of a better life. Those who took them in to work as farm laborers or household servants were told they were orphans--but was that the truth?

After the tragic loss of their father, the McAlister family is living at the edge of the poorhouse in London in 1908, leaving their mother to scrape by for her three younger children, while oldest daughter, Laura, works on a large estate more than an hour away. When Edna McAlister falls gravely ill and is hospitalized, twins Katie and Garth and eight-year-old Grace are forced into an orphans' home before Laura is notified about her family's unfortunate turn of events in London. With hundreds of British children sent on ships to Canada, whether truly orphans or not, Laura knows she must act quickly. But finding her siblings and taking care of her family may cost her everything.

Andrew Fraser, a wealthy young British lawyer and heir to the estate where Laura is in service, discovers that this common practice of finding new homes for penniless children might not be all that it seems. Together Laura and Andrew form an unlikely partnership. Will they arrive in time? Will their friendship blossom into something more?

Inspired by true events, this moving novel follows Laura as she seeks to reunite her family and her siblings who, in their darkest hours, must cling to the words from Isaiah: "Fear thou not; for I am with thee: be not dismayed; for I am thy God".
All book club selection are 20% off for Book Club members.
Upcoming Selections
---
GENERAL EVENT NOTES
---
WAITING IN LINE
At some of our well-attended or off-site ticketed events, you can expect to stand in line for upwards of two hours and sometimes longer. If you have an issue that prevents you from standing in line for that length of time, please
contact us immediately
so that we can better accommodate you at the event.
---
PARKING
Limited parking available at the Doylestown Bookshop, but street parking available in surrounding neighborhoods. In addition, free parking available at the Bucks County Parking Garage near the Courthouse on Broad Street. Free day and evening parking. Entrance on Broad Street. Additional entrances on Union and Doyle Streets. More information about parking in Doylestown can be found at
http://www.doylestownborough.net/visitors/parking
.
---
CAN'T MAKE THE EVENT, BUT STILL WANT A SIGNED COPY?
If you can't come to an event and still want an autographed copy of the book, you may purchase titles in advance either in the store, over the phone (215.230.7610), or through our website. When buying online, simply use the checkout comments field to indicate that you would like us to request the author's signature at our event before shipping it to you. Note: If you can't make it to the event, we cannot offer any personalization, only the authors signature.
---
QUESTIONS?
All event-related inquiries can be sent to our Director of Marketing, Events & Schools, Krisy Elisii, at krisyparedes@gmail.com. The views expressed through the books or authors featured online or in-store are not those of the Doylestown or Lahaska Bookshops.