Lahaska: Creative Reading Book Club
There will be a discussion revolving around informative fiction and non-fiction. Although the group consists mainly of "matured" adults, folks of all ages are welcome. Meetings will be on the first Friday of every month.
---
Meeting: Friday, February 7th at 1:00pm (Lahaska Bookshop)
---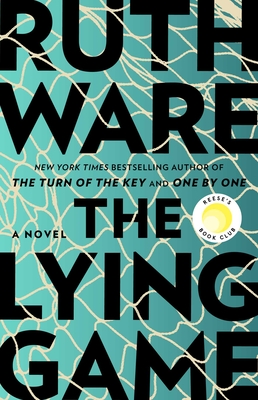 From the instant New York Times bestselling author of blockbuster thrillers In a Dark, Dark Wood and The Woman in Cabin 10 comes a chilling new novel of friendship, secrets, and the dangerous games teenaged girls play.

On a cool June morning, a woman is walking her dog in the idyllic coastal village of Salten, along a tidal estuary known as the Reach. Before she can stop him, the dog charges into the water to retrieve what first appears to be a wayward stick, but to her horror, turns out to be something much more sinister…

The next morning, three women in and around London—Fatima, Thea, and Isa—receive the text they had always hoped would never come, from the fourth in their formerly inseparable clique, Kate, that says only, "I need you."

The four girls were best friends at Salten, a second-rate boarding school set near the cliffs of the English Channel. Each different in their own way, the four became inseparable and were notorious for playing the Lying Game, telling lies at every turn to both fellow boarders and faculty. But their little game had consequences, and as the four converge in present-day Salten, they realize their shared past was not as safely buried as they had once hoped…

Atmospheric, twisty, and with just the right amount of chill to keep you wrong-footed, The Lying Game is told in Ruth Ware's signature suspenseful style, lending itself to becoming another unputdownable thriller from the Agatha Christie of our time.
All book club selection are 20% off for Book Club members.
Upcoming Selections
---
GENERAL EVENT NOTES
---
WAITING IN LINE
At some of our well-attended or off-site ticketed events, you can expect to stand in line for upwards of two hours and sometimes longer. If you have an issue that prevents you from standing in line for that length of time, please
contact us immediately
so that we can better accommodate you at the event.
---
PARKING
Limited parking available at the Doylestown Bookshop, but street parking available in surrounding neighborhoods. In addition, free parking available at the Bucks County Parking Garage near the Courthouse on Broad Street. Free day and evening parking. Entrance on Broad Street. Additional entrances on Union and Doyle Streets. More information about parking in Doylestown can be found at
http://www.doylestownborough.net/visitors/parking
.
---
CAN'T MAKE THE EVENT, BUT STILL WANT A SIGNED COPY?
If you can't come to an event and still want an autographed copy of the book, you may purchase titles in advance either in the store, over the phone (215.230.7610), or through our website. When buying online, simply use the checkout comments field to indicate that you would like us to request the author's signature at our event before shipping it to you. Note: If you can't make it to the event, we cannot offer any personalization, only the authors signature.
---
QUESTIONS?
All event-related inquiries can be sent to our Director of Marketing, Events & Schools, Krisy Elisii, at krisyparedes@gmail.com. The views expressed through the books or authors featured online or in-store are not those of the Doylestown or Lahaska Bookshops.