Lahaska: Carrie Havranek // TASTING PENNSYLVANIA
SATURDAY, NOVEMBER 16TH @ 1:00 PM - LAHASKA BOOKSHOP
BOOK SIGNING
Food writer Carrie Havranek will be at the Lahaska Bookshop signing copies of her new book Tasting Pennsylvania which showcases 108 recipes from the best restaurants, inns, diners, cafes, and bed-and-breakfasts across the state.
ABOUT THE BOOK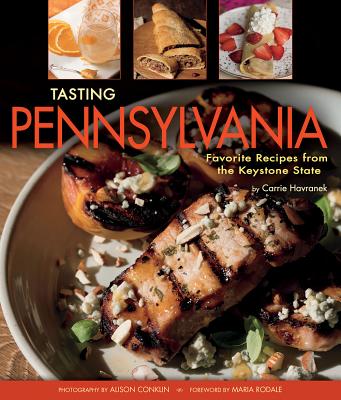 CoIn Tasting Pennsylvania: Favorite Recipes from the Keystone State, food writer Carrie Havranek showcases 108 recipes from the best restaurants, inns, diners, cafes, and bed-and-breakfasts across the state. Mouthwatering photographs complement each recipe.
The recipes celebrate Pennsylvania's chefs and the state's amazing bounty of farm-fresh produce and meats. Enjoy classics like Philly cheesesteak, Pittsburgh salad, mushroom soup, and shoofly pie, as well as innovative fusions of regional and global flavors that reveal the Keystone State's diverse cultural heritage.
---
ABOUT THE AUTHOR
Carrie Havranek is an Associate Editor for Simply Recipes and lives in Easton, Pennsylvania. She goes out of her way for farmers' markets, a crazy new ingredient, yoga class, and a walk-in nature. Find more of her work her on her blog The Dharma Kitchen. Her first cookbook, Tasting Pennsylvania, will be published in spring 2019.

$29.95
ISBN: 9781560377146
Availability: On Our Shelves Now
Published: Farcountry Press - August 13th, 2019
---
---
GENERAL EVENT NOTES
---
WAITING IN LINE
At some of our well-attended or off-site ticketed events, you can expect to stand in line for upwards of two hours and sometimes longer. If you have an issue that prevents you from standing in line for that length of time, please
contact us immediately
so that we can better accommodate you at the event.
---
PARKING
Limited parking available at the Doylestown Bookshop, but street parking available in surrounding neighborhoods. In addition, free parking available at the Bucks County Parking Garage near the Courthouse on Broad Street. Free day and evening parking. Entrance on Broad Street. Additional entrances on Union and Doyle Streets. More information about parking in Doylestown can be found at
http://www.doylestownborough.net/visitors/parking
.
---
CAN'T MAKE THE EVENT, BUT STILL WANT A SIGNED COPY?
If you can't come to an event and still want an autographed copy of the book, you may purchase titles in advance either in the store, over the phone (215.230.7610), or through our website. When buying online, simply use the checkout comments field to indicate that you would like us to request the author's signature at our event before shipping it to you. Note: If you can't make it to the event, we cannot offer any personalization, only the authors signature.
---
QUESTIONS?
All event-related inquiries can be sent to our Director of Marketing, Events & Schools, Krisy Elisii, at krisyparedes@gmail.com. The views expressed through the books or authors featured online or in-store are not those of the Doylestown or Lahaska Bookshops.