Doylestown: Tori Eldridge // Author Event
TUESDAY, NOVEMBER 12 @ 6:30 PM - DOYLESTOWN BOOKSHOP
IN CONVERSATION WITH JON MCGORAN
Tori Eldridge will be visiting the bookshop for a conversation with Jon McGoran and afterward will sign copies of her new book, NINJA DAUGHTER — an action-packed thriller about a Chinese-Norwegian modern-day ninja with Joy Luck Club family issues who fights the Los Angeles Ukrainian mob, sex traffickers, and her own family to save two desperate women and an innocent child
---
ABOUT THE BOOK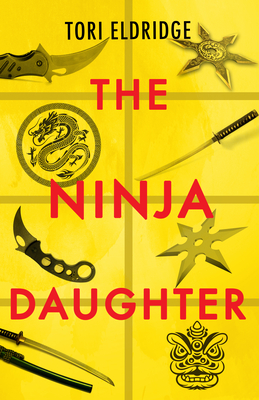 The Ninja Daughter is an action-packed thriller about a Chinese-Norwegian modern-day ninja with Joy Luck Club family issues who fights the Los Angeles Ukrainian mob, sex traffickers, and her own family to save two desperate women and an innocent child. After her sister is raped and murdered, Lily Wong dedicates her life and ninja skills to the protection of women. But her mission is complicated. Not only does she live above the Chinese restaurant owned by her Norwegian father and inspired by the recipes of her Chinese mother, but she has to hide her true self from her Hong Kong tiger mom who is already disappointed in her daughter's less than feminine ways, and who would be horrified to know what she had become. But when a woman and her son she escorted safely to an abused women's shelter return home to dangerous consequences, Lily is forced to not only confront her family and her past, but team up with a mysterious--and very lethal--stranger to rescue them.
---
ABOUT THE AUTHOR
Tori Eldridge is an author who challenges perception and empowers the spirit. Her debut short story was featured in Suspense Magazine's Best of 2014 and has inspired her novel THE NINJA DAUGHTER: A Lily Wong Ninja Mystery. Her horror screenplay THE GIFT earned a semi-finalist place for the prestigious Academy Award Nicholl Fellowship. Tori is a Hawaiian-Chinese-Norwegian modern-day ninja who was born and raised in Hawaii. She holds a fifth-degree black belt in To Shin Do Ninjutsu and has traveled the USA teaching seminars on the ninja arts, weapons, and women's self-protection. Find her online at www.torieldridge.com and on Twitter at @ToriEldridge
---
GENERAL EVENT NOTES
---
WAITING IN LINE
At some of our well-attended or off-site ticketed events, you can expect to stand in line for upwards of two hours and sometimes longer. If you have an issue that prevents you from standing in line for that length of time, please
contact us immediately
so that we can better accommodate you at the event.
---
PARKING
Limited parking available at the Doylestown Bookshop, but street parking available in surrounding neighborhoods. In addition, free parking available at the Bucks County Parking Garage near the Courthouse on Broad Street. Free day and evening parking. Entrance on Broad Street. Additional entrances on Union and Doyle Streets. More information about parking in Doylestown can be found at
http://www.doylestownborough.net/visitors/parking
.
---
CAN'T MAKE THE EVENT, BUT STILL WANT A SIGNED COPY?
If you can't come to an event and still want an autographed copy of the book, you may purchase titles in advance either in the store, over the phone (215.230.7610), or through our website. When buying online, simply use the checkout comments field to indicate that you would like us to request the author's signature at our event before shipping it to you. Note: If you can't make it to the event, we cannot offer any personalization, only the authors signature.
---
QUESTIONS?
All event-related inquiries can be sent to our Director of Marketing, Events & Schools, Krisy Elisii, at krisyparedes@gmail.com. The views expressed through the books or authors featured online or in-store are not those of the Doylestown or Lahaska Bookshops.