Doylestown: Author Event with Susan Holloway Scott // Historical Fiction
THIS EVENT HAS BEEN POSTPONED. THE NEW EVENT DATE IS TBA. WE APOLOGIZE FOR ANY INCONVIENCE.
Wednesday, November 6th at 6:30 pm
Doylestown Bookshop
Discussion & Book Signing with Susan Holloway Scott
Come out to the Doylestown Bookshop for a special discussion and book signing with SUSAN HOLLOWAY SCOTT, who will be at the bookshop for new historical fiction, THE SECRET WIFE OF AARON BURR, carefully researched blend of fact and fiction that tells the story of Mary Emmons, and the place she held in the life—and the heart—of the notorious Aaron Burr.
---
ABOUT THE BOOK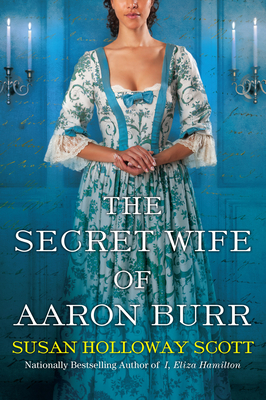 He was a hero of the Revolution, a brilliant politician, lawyer, and very nearly president; a skillful survivor in a raw new country filled with constantly shifting loyalties. Today Aaron Burr is remembered more for the fatal duel that killed rival Alexander Hamilton. But long before that single shot destroyed Burr's political career, there were other dark whispers about him: that he was untrustworthy, a libertine, a man unafraid of claiming whatever he believed should be his.
Sold into slavery as a child in India, Mary Emmons was brought to an America torn by war. Toughened by the experiences of her young life, Mary is intelligent, resourceful, and strong. She quickly gains the trust of her new mistress, Theodosia Prevost, and becomes indispensable in a complicated household filled with intrigue—especially when the now-widowed Theodosia marries Colonel Aaron Burr. As Theodosia sickens with the fatal disease that will finally kill her, Mary and Burr are drawn together into a private world of power and passion, and a secret, tangled union that would have shocked the nation . . .
---
ABOUT THE AUTHOR
Susan Holloway Scott is the author of over fifty historical novels. Writing under several pen names, she has received numerous awards and critical acclaim for her bestselling books. Over three million copies of her books are in print, and her work has been published in nineteen foreign countries and translated into fourteen different languages.

A frequent speaker at museums, colleges, and historical sites, Susan also maintains a world-wide following on social media through her blog, Twitter, and Instagram accounts. She is a graduate of Brown University, and lives with her family outside of Philadelphia. For more information about Susan and her books, visit her website at www.susanhollowayscott.com.
---
GENERAL EVENT NOTES
---
WAITING IN LINE
At some of our well-attended or off-site ticketed events, you can expect to stand in line for upwards of two hours and sometimes longer. If you have an issue that prevents you from standing in line for that length of time, please
contact us immediately
so that we can better accommodate you at the event.
---
PARKING
Limited parking available at the Doylestown Bookshop, but street parking available in surrounding neighborhoods. In addition, free parking available at the Bucks County Parking Garage near the Courthouse on Broad Street. Free day and evening parking. Entrance on Broad Street. Additional entrances on Union and Doyle Streets. More information about parking in Doylestown can be found at
http://www.doylestownborough.net/visitors/parking
.
---
CAN'T MAKE THE EVENT, BUT STILL WANT A SIGNED COPY?
If you can't come to an event and still want an autographed copy of the book, you may purchase titles in advance either in the store, over the phone (215.230.7610), or through our website. When buying online, simply use the checkout comments field to indicate that you would like us to request the author's signature at our event before shipping it to you. Note: If you can't make it to the event, we cannot offer any personalization, only the authors signature.
---
QUESTIONS?
All event-related inquiries can be sent to our Director of Marketing, Events & Schools, Krisy Elisii, at krisyparedes@gmail.com. The views expressed through the books or authors featured online or in-store are not those of the Doylestown or Lahaska Bookshops.