Doylestown: Ryan Manion // THE KNOCK AT THE DOOR
Saturday, November 9th, at 3:00 pm
Doylestown Bookshop
Discussion & Book Signing with Ryan Manion and Heather Kelly
Come out to the Doylestown Bookshop for a special discussion and book signing with RYAN MANION and HEATHER KELLY, who will be at the bookshop for her new book, THE KNOCK AT THE DOOR, where Three Gold Star women, linked forever by unimaginable loss, share their inspiring, unlikely journey that began on the worst day of their lives.
---
ABOUT THE BOOK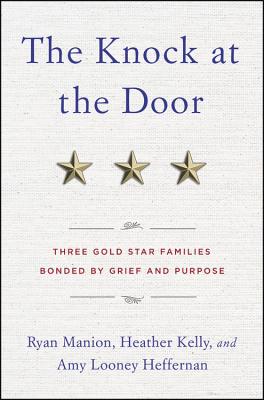 What happens when tragedy knocks on your front door?
For us, it was a literal knock, with two men standing in crisply pressed uniforms. They had news. News that gutted us to the core -- the death of our loved ones, a brother and two husbands -- in combat zones. The thing about those moments is that it's almost inconceivable that they can happen to you. That is, until they do.
This book is for anyone who has ever received a knock at the door. And if you live long enough and have the courage to love others, you will. Maybe it's a cancer diagnosis. Maybe it's the death of your best friend. The betrayal of a spouse. The loss of a child. The implosion of a professional career. Or any tragedy that takes the person we love the most away from us too soon. Life is not without its challenges. The key is how you respond.
This is our story. The story of three women, bonded by grief and purpose. Grief because we lost our best friends in war. Purpose because we resolved -- together -- to do something about it. To turn loss into inspiration for others and to channel the love that we had for the men in our lives into love for others through service. It was the only way we could escape the trap of despair and inaction, and we believe it offers a roadmap for anyone else who has ever had to answer a knock at the door.
---
ABOUT THE AUTHORS
Ryan Manion is the surviving sister of Marine 1stLt Travis Manion, who was killed in Iraq on April 29, 2007. His death served as the inspiration for establishing the Travis Manion Foundation, a nationally recognized veteran service organization. Today Ryan leads the foundation as President, and as a highly regarded advocate for the military community, she addresses national audiences frequently.
Heather Kelly is the surviving spouse of Marine 1stLt. Robert Kelly, who was killed in Afghanistan on November 9, 2010. As West Region Program Mgr. for TMF, Heather works closely with veterans returning to civilian life, the surviving family members of those who make the ultimate sacrifice, and fostering America's next generation of leaders.
---
GENERAL EVENT NOTES
---
WAITING IN LINE
At some of our well-attended or off-site ticketed events, you can expect to stand in line for upwards of two hours and sometimes longer. If you have an issue that prevents you from standing in line for that length of time, please
contact us immediately
so that we can better accommodate you at the event.
---
PARKING
Limited parking available at the Doylestown Bookshop, but street parking available in surrounding neighborhoods. In addition, free parking available at the Bucks County Parking Garage near the Courthouse on Broad Street. Free day and evening parking. Entrance on Broad Street. Additional entrances on Union and Doyle Streets. More information about parking in Doylestown can be found at
http://www.doylestownborough.net/visitors/parking
.
---
CAN'T MAKE THE EVENT, BUT STILL WANT A SIGNED COPY?
If you can't come to an event and still want an autographed copy of the book, you may purchase titles in advance either in the store, over the phone (215.230.7610), or through our website. When buying online, simply use the checkout comments field to indicate that you would like us to request the author's signature at our event before shipping it to you. Note: If you can't make it to the event, we cannot offer any personalization, only the authors signature.
---
QUESTIONS?
All event-related inquiries can be sent to our Director of Marketing, Events & Schools, Krisy Elisii, at krisyparedes@gmail.com. The views expressed through the books or authors featured online or in-store are not those of the Doylestown or Lahaska Bookshops.