Doylestown: Rob Kall // Author Event
WEDNESDAY, SEPTEMBER 11TH @ 6:30 PM - DOYLESTOWN BOOKSHOP
Award-winning journalist Rob Kall will be at the Doylestown Bookshop to discuss and sign copies of his latest book, THE BOTTOM-UP REVOLUTION, a book that explores how some of the largest and most successful individuals and companies change and grow.
---
ABOUT THE BOOK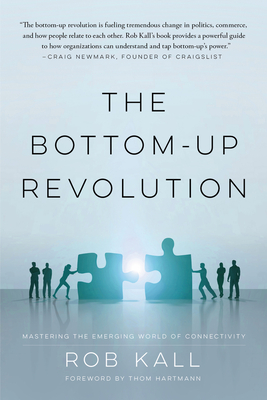 Barack Obama, Bernie Sanders, Hillary Clinton, George W. Bush, Sir Richard Branson, Steve Jobs, and Mark Zuckerberg have all said that that change or growth happen from the bottom up.
But what does it mean and how do you do "bottom up" better and smarter? Bottom up is a way of life and a way of doing business. The Bottom-Up Revolution: Mastering the Emerging World of Connectivity, picks up where Malcolm Gladwell's Tipping Point left off. It is a how-to book for businesses, leaders, organizations, activists, and individuals, cracking wide-open humankind's biggest trend in seven million years. By understanding the roots and implications of "bottom up" and "top down" you'll be better able to tap the incredible power of this trend, as the billionaire founders of Google, Facebook, Craigslist and Twitter have done.
---
ABOUT THE AUTHOR
Rob Kall is an award-winning journalist, inventor, software architect, connector and visionary. Articles by and about him have been featured in the New York Times, the Wall Street Journal, CNN, ABC, the HuffPost, Success, Discover and other media. He's given talks and workshops to Fortune 500 execs and national medical and psychological organizations, and pioneered first-of-their-kind conferences in Positive Psychology, Brain Science and Story. He hosts some of the world's smartest, most interesting and powerful people on his Bottom up Radio Show. Rob founded and publishes one of the top Google- ranked progressive news and opinion sites, OpEdNews.com
---
GENERAL EVENT NOTES
---
WAITING IN LINE
At some of our well-attended or off-site ticketed events, you can expect to stand in line for upwards of two hours and sometimes longer. If you have an issue that prevents you from standing in line for that length of time, please
contact us immediately
so that we can better accommodate you at the event.
---
PARKING
Limited parking available at the Doylestown Bookshop, but street parking available in surrounding neighborhoods. In addition, free parking available at the Bucks County Parking Garage near the Courthouse on Broad Street. Free day and evening parking. Entrance on Broad Street. Additional entrances on Union and Doyle Streets. More information about parking in Doylestown can be found at
http://www.doylestownborough.net/visitors/parking
.
---
CAN'T MAKE THE EVENT, BUT STILL WANT A SIGNED COPY?
If you can't come to an event and still want an autographed copy of the book, you may purchase titles in advance either in the store, over the phone (215.230.7610), or through our website. When buying online, simply use the checkout comments field to indicate that you would like us to request the author's signature at our event before shipping it to you. Note: If you can't make it to the event, we cannot offer any personalization, only the authors signature.
---
QUESTIONS?
All event-related inquiries can be sent to our Director of Marketing, Events & Schools, Krisy Elisii, at krisyparedes@gmail.com. The views expressed through the books or authors featured online or in-store are not those of the Doylestown or Lahaska Bookshops.