Doylestown: Jacopo Della Querica & Ian Doescher // Author Event
Wednesday, October 2nd at 6:30 pm
Doylestown Bookshop
Jacopo Della Querica & Ian Doescher
Come out to the Doylestown Bookshop for an with Jacopo Della Querica & Ian Doescher as they present and sign copies of their new book, MacTrump, a clever satire, written in iambic pentameter in the style of Shakespeare, that wittily fictionalizes the events of the first two years of the Trump administration.
ABOUT THE BOOK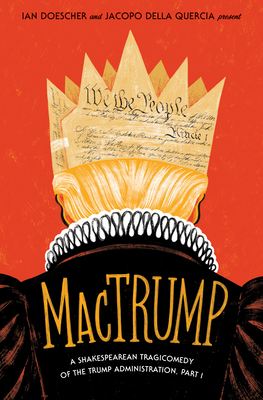 No one thought that MacTrump—Lord of MacTrump Towers, Son of New York—would ascend to the highest position in the kingdom. Yet with the help of his unhappy but dutiful wife Lady MacTrump, his clever daughter Dame Desdivanka, and his coterie of advisers, MacTrump is comfortably ensconced in the White Hold as President of the United Fiefdoms, free to make proclamations to his subjects through his favorite messenger, McTweet.

The Democrati, mourning the loss of their cherished leader O'Bama, won't give up without a fight. They still remember the disastrous reign of George the Lesser, and they can see Putain's dark influence on MacTrump. Their greatest hope is MacMueller, tasked with investigating the plot that empowered MacTrump's rise to the throne.

As Desdivanka schemes to overthrow her father's councilors, and as Donnison and Ericson—trapped in their own Rosencrantz and Guildenstern-like storyline—prove useless to their father, MacTrump soon realizes he has no true allies. Will he be able to hold on to his throne? Only time will tell in this tragicomic tale of ambition, greed, and royal ineptitude.
---
ABOUT THE AUTHORS
Ian Doescher is the New York Times best-selling author of William Shakespeare's Star Wars and the Pop Shakespeare series. He lives in Portland, Oregon, with his family.

Jacopo Della Quercia is the pseudonym for a former Obama staffer. He is the author of The Great Abraham Lincoln Pocket Watch Conspiracy and License to Quill, a scholar with the New York Council for the Humanities, and a history writer who has authored more than 100 articles for the comedy website Cracked.com.
---
GENERAL EVENT NOTES
---
WAITING IN LINE
At some of our well-attended or off-site ticketed events, you can expect to stand in line for upwards of two hours and sometimes longer. If you have an issue that prevents you from standing in line for that length of time, please
contact us immediately
so that we can better accommodate you at the event.
---
PARKING
Limited parking available at the Doylestown Bookshop, but street parking available in surrounding neighborhoods. In addition, free parking available at the Bucks County Parking Garage near the Courthouse on Broad Street. Free day and evening parking. Entrance on Broad Street. Additional entrances on Union and Doyle Streets. More information about parking in Doylestown can be found at
http://www.doylestownborough.net/visitors/parking
.
---
CAN'T MAKE THE EVENT, BUT STILL WANT A SIGNED COPY?
If you can't come to an event and still want an autographed copy of the book, you may purchase titles in advance either in the store, over the phone (215.230.7610), or through our website. When buying online, simply use the checkout comments field to indicate that you would like us to request the author's signature at our event before shipping it to you. Note: If you can't make it to the event, we cannot offer any personalization, only the authors signature.
---
QUESTIONS?
All event-related inquiries can be sent to our Director of Marketing, Events & Schools, Krisy Elisii, at krisyparedes@gmail.com. The views expressed through the books or authors featured online or in-store are not those of the Doylestown or Lahaska Bookshops.