Doylestown: Poetry Book Club *New Time!*
Poetry Book Club / Fourth Tuesday each month / 6:00 pm / Doylestown Bookshop

Read and discuss poetry at the Poetry Book Club. Open to everybody.
---
Meeting: Tuesday, March 24th at 6:00 pm *please note time change*
---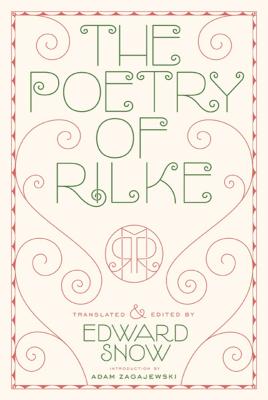 For the past twenty-five years, North Point Press has been working with Edward Snow, "Rilke's best contemporary translator" (Brian Phillips, The New Republic), to bring into English Rilke's major poetic works. The Poetry of Rilke—the single most comprehensive volume of Rilke's German poetry ever to be published in English—is the culmination of this effort. With more than two hundred and fifty selected poems by Rilke, including complete translations of the Sonnets to Orpheus and the Duino Elegies, The Poetry of Rilke spans the arc of Rilke's work, from the breakthrough poems of The Book of Hours to the visionary masterpieces written only weeks before his death. This landmark bilingual edition also contains all of Snow's commentaries on Rilke, as well as an important new introduction by the award-winning poet Adam Zagajewski. The Poetry of Rilke will stand as the authoritative single-volume translation of Rilke into English for years to come.
---

$25.00
ISBN: 9780374532710
Availability: On Our Shelves Now
Published: North Point Press - March 15th, 2011
---
---
GENERAL EVENT NOTES
---
WAITING IN LINE
At some of our well-attended or off-site ticketed events, you can expect to stand in line for upwards of two hours and sometimes longer. If you have an issue that prevents you from standing in line for that length of time, please
contact us immediately
so that we can better accommodate you at the event.
---
PARKING
Limited parking available at the Doylestown Bookshop, but street parking available in surrounding neighborhoods. In addition, free parking available at the Bucks County Parking Garage near the Courthouse on Broad Street. Free day and evening parking. Entrance on Broad Street. Additional entrances on Union and Doyle Streets. More information about parking in Doylestown can be found at
http://www.doylestownborough.net/visitors/parking
.
---
CAN'T MAKE THE EVENT, BUT STILL WANT A SIGNED COPY?
If you can't come to an event and still want an autographed copy of the book, you may purchase titles in advance either in the store, over the phone (215.230.7610), or through our website. When buying online, simply use the checkout comments field to indicate that you would like us to request the author's signature at our event before shipping it to you. Note: If you can't make it to the event, we cannot offer any personalization, only the authors signature.
---
QUESTIONS?
All event-related inquiries can be sent to our Director of Marketing, Events & Schools, Krisy Elisii, at krisyparedes@gmail.com. The views expressed through the books or authors featured online or in-store are not those of the Doylestown or Lahaska Bookshops.