Doylestown: New Spirituality Book Club
New Spirituality Book Club / Fourth Monday each month / 6:30 pm / Doylestown Bookshop

Read and discuss books to expand and nurture your spiritual journey. Open to everybody.
---
Meeting: Monday, March 23rd at 6:30 pm
---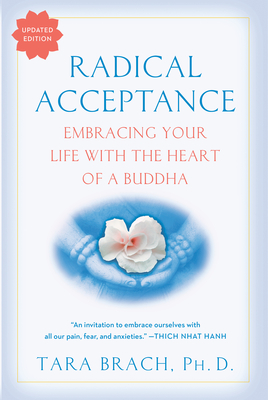 For many of us, feelings of deficiency are right around the corner. It doesn't take much--just hearing of someone else's accomplishments, being criticized, getting into an argument, making a mistake at work--to make us feel that we are not okay. Beginning to understand how our lives have become ensnared in this trance of unworthiness is our first step toward reconnecting with who we really are and what it means to live fully.
—from Radical Acceptance
"Believing that something is wrong with us is a deep and tenacious suffering," says Tara Brach at the start of this illuminating book. This suffering emerges in crippling self-judgments and conflicts in our relationships, in addictions and perfectionism, in loneliness and overwork—all the forces that keep our lives constricted and unfulfilled. Radical Acceptance offers a path to freedom, including the day-to-day practical guidance developed over Dr. Brach's twenty years of work with therapy clients and Buddhist students.
Writing with great warmth and clarity, Tara Brach brings her teachings alive through personal stories and case histories, fresh interpretations of Buddhist tales, and guided meditations. Step by step, she leads us to trust our innate goodness, showing how we can develop the balance of clear-sightedness and compassion that is the essence of Radical Acceptance. Radical Acceptance does not mean self-indulgence or passivity. Instead, it empowers genuine change: healing fear and shame and helping to build loving, authentic relationships. When we stop being at war with ourselves, we are free to live fully every precious moment of our lives.
Learn more about our book clubs here.
---

$17.00
ISBN: 9780553380996
Availability: On Our Shelves Now
Published: Bantam - November 23rd, 2004
---
---
GENERAL EVENT NOTES
---
WAITING IN LINE
At some of our well-attended or off-site ticketed events, you can expect to stand in line for upwards of two hours and sometimes longer. If you have an issue that prevents you from standing in line for that length of time, please
contact us immediately
so that we can better accommodate you at the event.
---
PARKING
Limited parking available at the Doylestown Bookshop, but street parking available in surrounding neighborhoods. In addition, free parking available at the Bucks County Parking Garage near the Courthouse on Broad Street. Free day and evening parking. Entrance on Broad Street. Additional entrances on Union and Doyle Streets. More information about parking in Doylestown can be found at
http://www.doylestownborough.net/visitors/parking
.
---
CAN'T MAKE THE EVENT, BUT STILL WANT A SIGNED COPY?
If you can't come to an event and still want an autographed copy of the book, you may purchase titles in advance either in the store, over the phone (215.230.7610), or through our website. When buying online, simply use the checkout comments field to indicate that you would like us to request the author's signature at our event before shipping it to you. Note: If you can't make it to the event, we cannot offer any personalization, only the authors signature.
---
QUESTIONS?
All event-related inquiries can be sent to our Director of Marketing, Events & Schools, Krisy Elisii, at krisyparedes@gmail.com. The views expressed through the books or authors featured online or in-store are not those of the Doylestown or Lahaska Bookshops.