Doylestown: Murder Mystery Book Club
Murder Mystery Book Club / First Monday each month / 6:30 pm / Doylestown Bookshop

Read and discuss books that explore the classic whodunnit. Open to everybody.
---
Meeting: Monday, February 3rd at 6:30 pm
---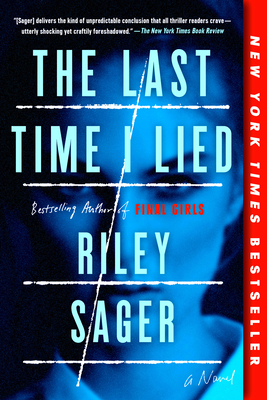 In this New York Times bestselling thriller from the author of Lock Every Door and Final Girls, a young woman returns to her childhood summer camp to uncover the truth about a tragedy that happened there fifteen years ago.

Two Truths and a Lie. The girls played it all the time in their cabin at Camp Nightingale. Vivian, Natalie, Allison, and first-time camper Emma Davis, the youngest of the group. But the games ended the night Emma sleepily watched the others sneak out of the cabin into the darkness. The last she--or anyone--saw of them was Vivian closing the cabin door behind her, hushing Emma with a finger pressed to her lips.

Now a rising star in the New York art scene, Emma turns her past into paintings--massive canvases filled with dark leaves and gnarled branches that cover ghostly shapes in white dresses. When the paintings catch the attention of Francesca Harris-White, the wealthy owner of Camp Nightingale, she implores Emma to return to the newly reopened camp as a painting instructor. Seeing an opportunity to find out what really happened to her friends all those years ago, Emma agrees.

Familiar faces, unchanged cabins, and the same dark lake haunt Nightingale, even though the camp is opening its doors for the first time since the disappearances. Emma is even assigned to the same cabin she slept in as a teenager, but soon discovers a security camera--the only one on the property--pointed directly at its door. Then cryptic clues that Vivian left behind about the camp's twisted origins begin surfacing. As she digs deeper, Emma finds herself sorting through lies from the past while facing mysterious threats in the present. And the closer she gets to the truth about Camp Nightingale and what really happened to those girls, the more she realizes that closure could come at a deadly price.
All book club selection are 20% off for Book Club members.
Upcoming Selections
To be determined....
---
GENERAL EVENT NOTES
---
WAITING IN LINE
At some of our well-attended or off-site ticketed events, you can expect to stand in line for upwards of two hours and sometimes longer. If you have an issue that prevents you from standing in line for that length of time, please
contact us immediately
so that we can better accommodate you at the event.
---
PARKING
Limited parking available at the Doylestown Bookshop, but street parking available in surrounding neighborhoods. In addition, free parking available at the Bucks County Parking Garage near the Courthouse on Broad Street. Free day and evening parking. Entrance on Broad Street. Additional entrances on Union and Doyle Streets. More information about parking in Doylestown can be found at
http://www.doylestownborough.net/visitors/parking
.
---
CAN'T MAKE THE EVENT, BUT STILL WANT A SIGNED COPY?
If you can't come to an event and still want an autographed copy of the book, you may purchase titles in advance either in the store, over the phone (215.230.7610), or through our website. When buying online, simply use the checkout comments field to indicate that you would like us to request the author's signature at our event before shipping it to you. Note: If you can't make it to the event, we cannot offer any personalization, only the authors signature.
---
QUESTIONS?
All event-related inquiries can be sent to our Director of Marketing, Events & Schools, Krisy Elisii, at krisyparedes@gmail.com. The views expressed through the books or authors featured online or in-store are not those of the Doylestown or Lahaska Bookshops.