Doylestown: Matthew Algeo // All This Marvelous Potential
Friday, March 6th at 5:00 p.m.
The Doylestown Bookshop
Book Signing with Matthew Algeo
Please join us at The Doylestown Bookshop to welcome author Matthew Algeo in celebration of his latest release,
All This Marvelous Potential
. We hope to see you there!
---
ABOUT THE BOOK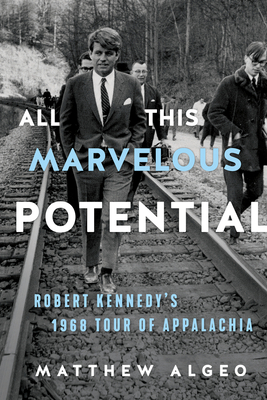 In early 1968, Senator Robert F. Kennedy ventured deep into the heart of eastern Kentucky to gauge the progress of President Lyndon Johnson's War on Poverty. Kennedy, already considering challenging Johnson for the Democratic presidential nomination, viewed his two days in Kentucky as an opportunity to test his antiwar and antipoverty message with hardscrabble white voters. Among the strip mines, one-room schoolhouses, and dilapidated homes, however, Kennedy encountered a strong mistrust and intense resentment of establishment politicians.

In All This Marvelous Potential, author Matthew Algeo meticulously retraces RFK's tour of eastern Kentucky, visiting the places he visited and meeting with the people he met. Algeo explains how and why the region has changed since 1968, and why it matters for the rest of the country. The similarities between then and now are astonishing: divisive politics, racial strife, economic uncertainty, and environmental alarm. This book provides a new portrait of Robert Kennedy, a politician who, for all his faults, had the uncommon courage to stand up to a president from his own party and shine a light on America's shortcomings
---
ABOUT THE AUTHOR
Matthew Algeo is the author of Harry Truman's Excellent Adventure, The President Is a Sick Man, and Abe & Fido. An award-winning journalist, Algeo has reported from four continents for public radio's All Things Considered, Marketplace, and Morning Edition.

$28.99
ISBN: 9781641600590
Availability: On Our Shelves Now
Published: Chicago Review Press - March 3rd, 2020
---
---
GENERAL EVENT NOTES
---
WAITING IN LINE
At some of our well-attended or off-site ticketed events, you can expect to stand in line for upwards of two hours and sometimes longer. If you have an issue that prevents you from standing in line for that length of time, please
contact us immediately
so that we can better accommodate you at the event.
---
PARKING
Limited parking available at the Doylestown Bookshop, but street parking available in surrounding neighborhoods. In addition, free parking available at the Bucks County Parking Garage near the Courthouse on Broad Street. Free day and evening parking. Entrance on Broad Street. Additional entrances on Union and Doyle Streets. More information about parking in Doylestown can be found at
http://www.doylestownborough.net/visitors/parking
.
---
CAN'T MAKE THE EVENT, BUT STILL WANT A SIGNED COPY?
If you can't come to an event and still want an autographed copy of the book, you may purchase titles in advance either in the store, over the phone (215.230.7610), or through our website. When buying online, simply use the checkout comments field to indicate that you would like us to request the author's signature at our event before shipping it to you. Note: If you can't make it to the event, we cannot offer any personalization, only the authors signature.
---
QUESTIONS?
All event-related inquiries can be sent to our Director of Marketing, Events & Schools, Krisy Elisii, at krisyparedes@gmail.com. The views expressed through the books or authors featured online or in-store are not those of the Doylestown or Lahaska Bookshops.