Doylestown: Matt Phelan // Book Signing
SATURDAY, OCTOBER 19TH @ 1:00 PM - DOYLESTOWN BOOKSHOP
Author and Illustrator Matt Phelan (Knights vs. Dinosaurs), will be at the bookshop to sign copies of his latest book, YOU ARE MY FRIEND — a heartwarming picture book that celebrates the work of Mister Rogers and carries on his legacy of kindness
---
ABOUT THE BOOK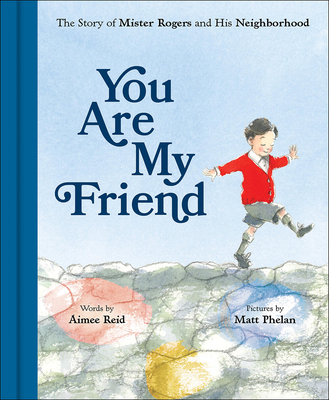 Mister Rogers is one of the most beloved television personalities, but before he was the man who brought us Mister Rogers' Neighborhood, he was just little Freddie Rogers. Though he was often sick and had trouble making friends as a child, his mom and grandfather encouraged him to ask for help and explore the world. With their support, he learned how to better say what he was feeling and see the beauty around him. As he grew up, he realized he could spread the message of compassion, equality, and kindness through television. You Are My Friend is a gentle homage to Fred Rogers and shows how his simple message still resonates with us today: "There's no person in the world like you and I like you just the way you are." The book includes a short biography of Fred's life and a bibliography.
---
ABOUT THE AUTHOR
Matt Phelan is an award-winning author and illustrator. He received the Scott O'Dell Award for Historical Fiction and has been nominated for five Eisner Awards. He lives in Ardmore, Pennsylvania. Visit his website at www.mattphelan.com and follow his social media @MattPhelanDraws.
---
GENERAL EVENT NOTES
---
WAITING IN LINE
At some of our well-attended or off-site ticketed events, you can expect to stand in line for upwards of two hours and sometimes longer. If you have an issue that prevents you from standing in line for that length of time, please
contact us immediately
so that we can better accommodate you at the event.
---
PARKING
Limited parking available at the Doylestown Bookshop, but street parking available in surrounding neighborhoods. In addition, free parking available at the Bucks County Parking Garage near the Courthouse on Broad Street. Free day and evening parking. Entrance on Broad Street. Additional entrances on Union and Doyle Streets. More information about parking in Doylestown can be found at
http://www.doylestownborough.net/visitors/parking
.
---
CAN'T MAKE THE EVENT, BUT STILL WANT A SIGNED COPY?
If you can't come to an event and still want an autographed copy of the book, you may purchase titles in advance either in the store, over the phone (215.230.7610), or through our website. When buying online, simply use the checkout comments field to indicate that you would like us to request the author's signature at our event before shipping it to you. Note: If you can't make it to the event, we cannot offer any personalization, only the authors signature.
---
QUESTIONS?
All event-related inquiries can be sent to our Director of Marketing, Events & Schools, Krisy Elisii, at krisyparedes@gmail.com. The views expressed through the books or authors featured online or in-store are not those of the Doylestown or Lahaska Bookshops.