Doylestown: Marjan Kamali // The Stationery Shop
Saturday, February 22nd from 12:00PM to 2:00PM
The Doylestown Bookshop
Book Signing with Marjan Kamali
Please join us at The Doylestown Bookshop to welcome author Marjan Kamali for a discussion and book signing in celebration of her latest release,
The Stationery Shop
. A heartfelt tale, this book explores the ideas of political upheavals, grief, fate, and lost love. We hope to see you there!
---
ABOUT THE BOOK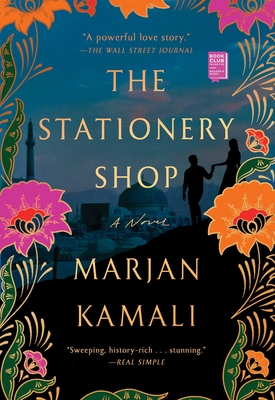 A poignant, heartfelt new novel by the award-nominated author of Together Tea—extolled by the Wall Street Journal as a "moving tale of lost love" and by Shelf Awareness as "a powerful, heartbreaking story"—explores loss, reconciliation, and the quirks of fate.
Roya, a dreamy, idealistic teenager living amid the political upheaval of 1953 Tehran, finds a literary oasis in kindly Mr. Fakhri's neighborhood stationery shop, stocked with books and pens and bottles of jewel-colored ink.
Then Mr. Fakhri, with a keen instinct for a budding romance, introduces Roya to his other favorite customer—handsome Bahman, who has a burning passion for justice and a love for Rumi's poetry—and she loses her heart at once. Their romance blossoms, and the little stationery shop remains their favorite place in all of Tehran.
A few short months later, on the eve of their marriage, Roya agrees to meet Bahman at the town square when violence erupts—a result of the coup d'etat that forever changes their country's future. In the chaos, Bahman never shows. For weeks, Roya tries desperately to contact him, but her efforts are fruitless. With a sorrowful heart, she moves on—to college in California, to another man, to a life in New England—until, more than sixty years later, an accident of fate leads her back to Bahman and offers her a chance to ask him the questions that have haunted her for more than half a century: Why did you leave? Where did you go? How is it that you were able to forget me?
---
ABOUT THE AUTHOR
Marjan Kamali, born in Turkey to Iranian parents, spent her childhood in Kenya, Germany, Turkey, Iran, and the United States. She holds degrees from UC Berkeley, Columbia University, and New York University. Her work has also been broadcast on BBC Radio 4 and published in two anthologies: Tremors and Let Me Tell You Where I've Been. An excerpt from The Stationery Shop was published in Solstice Literary Magazine and nominated for a Pushcart Prize. Her debut novel Together Tea was a Massachusetts Book Award Finalist, an NPR WBUR Good Read, and a Target Emerging Author Selection. Marjan lives with her husband and two children in the Boston area.

$16.00

ISBN: 9781982107499
Availability: On Our Shelves Now
Published: Gallery Books - February 11th, 2020
---
---
GENERAL EVENT NOTES
---
VIRTUAL EVENTS
We host our virtual author events on
CrowdCast
. The majority of our events are free to view unless otherwise noted and archived on our
YouTube channel
. Virtual events are easy to attend! Viewers do not have to worry about being on camera or having access to a microphone and have the ability to chat with the authors through live chat and ask questions through CrowdCast during the event by typing them into the Q&A field. Visit our CrowdCast page to
learn more>>
.
---
WAITING IN LINE
At some of our well-attended or off-site ticketed events, you can expect to stand in line for upwards of two hours and sometimes longer. If you have an issue that prevents you from standing in line for that length of time, please
contact us immediately
so that we can better accommodate you at the event.
---
PARKING
Limited parking available at the Doylestown Bookshop, but street parking available in surrounding neighborhoods. In addition, free parking available at the Bucks County Parking Garage near the Courthouse on Broad Street. Free day and evening parking. Entrance on Broad Street. Additional entrances on Union and Doyle Streets. More information about parking in Doylestown can be found at
http://www.doylestownborough.net/visitors/parking
.
---
CAN'T MAKE THE EVENT, BUT STILL WANT A SIGNED COPY?
If you can't come to an event and still want an autographed copy of the book, you may purchase titles in advance either in the store, over the phone (215.230.7610), or through our website. When buying online, simply use the checkout comments field to indicate that you would like us to request the author's signature at our event before shipping it to you. Note: If you can't make it to the event, we cannot offer any personalization, only the authors signature.
---
QUESTIONS?
All event-related inquiries can be sent to our Director of Marketing, Events & Schools, Krisy Elisii, at krisyparedes@gmail.com. The views expressed through the books or authors featured online or in-store are not those of the Doylestown or Lahaska Bookshops.