Doylestown: LGBTQ+ Book Club
LGBTQ+ Book Club / 2nd Monday each month / 6:30 pm / Doylestown Bookshop

We invite everyone across the LGBTQ+ spectrum to read and discuss queer fiction and authors, biographies and historic moments of the LGBT movement! Meeting ever second Monday of every month at 6:30.
---
Meeting: Monday, January 13th at 6:30 pm
---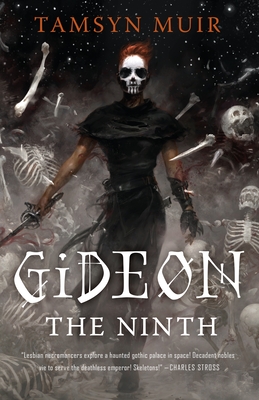 A USA Today Best-Selling Novel, and one of the Best Books of 2019 according to NPR, the New York Public Library, Amazon, BookPage, Shelf Awareness, BookRiot, and Gizmodo Australia!

"Unlike anything I've ever read. " —V.E. Schwab

"Lesbian necromancers explore a haunted gothic palace in space!" —Charles Stross

"Deft, tense and atmospheric, compellingly immersive and wildly original." —The New York Times

The Emperor needs necromancers.
The Ninth Necromancer needs a swordswoman.
Gideon has a sword, some dirty magazines, and no more time for undead nonsense.
Tamsyn Muir's Gideon the Ninth unveils a solar system of swordplay, cut-throat politics, and lesbian necromancers. Her characters leap off the page, as skillfully animated as arcane revenants. The result is a heart-pounding epic science fantasy.
Brought up by unfriendly, ossifying nuns, ancient retainers, and countless skeletons, Gideon is ready to abandon a life of servitude and an afterlife as a reanimated corpse. She packs up her sword, her shoes, and her dirty magazines, and prepares to launch her daring escape. But her childhood nemesis won't set her free without a service.
Harrowhark Nonagesimus, Reverend Daughter of the Ninth House and bone witch extraordinaire, has been summoned into action. The Emperor has invited the heirs to each of his loyal Houses to a deadly trial of wits and skill. If Harrowhark succeeds she will be become an immortal, all-powerful servant of the Resurrection, but no necromancer can ascend without their cavalier. Without Gideon's sword, Harrow will fail, and the Ninth House will die.
Of course, some things are better left dead.
All book club selection are 20% off for Book Club members.
Upcoming Selections
---
GENERAL EVENT NOTES
---
VIRTUAL EVENTS
We host our virtual author events on
CrowdCast
. The majority of our events are free to view unless otherwise noted and archived on our
YouTube channel
. Virtual events are easy to attend! Viewers do not have to worry about being on camera or having access to a microphone and have the ability to chat with the authors through live chat and ask questions through CrowdCast during the event by typing them into the Q&A field. Visit our CrowdCast page to
learn more>>
.
---
WAITING IN LINE
At some of our well-attended or off-site ticketed events, you can expect to stand in line for upwards of two hours and sometimes longer. If you have an issue that prevents you from standing in line for that length of time, please
contact us immediately
so that we can better accommodate you at the event.
---
PARKING
Limited parking available at the Doylestown Bookshop, but street parking available in surrounding neighborhoods. In addition, free parking available at the Bucks County Parking Garage near the Courthouse on Broad Street. Free day and evening parking. Entrance on Broad Street. Additional entrances on Union and Doyle Streets. More information about parking in Doylestown can be found at
http://www.doylestownborough.net/visitors/parking
.
---
CAN'T MAKE THE EVENT, BUT STILL WANT A SIGNED COPY?
If you can't come to an event and still want an autographed copy of the book, you may purchase titles in advance either in the store, over the phone (215.230.7610), or through our website. When buying online, simply use the checkout comments field to indicate that you would like us to request the author's signature at our event before shipping it to you. Note: If you can't make it to the event, we cannot offer any personalization, only the authors signature.
---
QUESTIONS?
All event-related inquiries can be sent to our Director of Marketing, Events & Schools, Krisy Elisii, at krisyparedes@gmail.com. The views expressed through the books or authors featured online or in-store are not those of the Doylestown or Lahaska Bookshops.