Doylestown: Kiley Reid // Such a Fun Age
Wednesday, January 29th at 6:30PM
The Doylestown Bookshop
Book Signing with Kiley Reid
Please join us at The Doylestown Bookshop to welcome author Kiley Reid for a discussion and book signing in celebration of her debut,
Such a Fun Age
. This delight of a book explores deep, relevant issues in a refreshing and binge-worthy way. We hope to see you there!
EVENT GUIDELINES:
Seating begins at 5:30 pm and is first come, first serve. We will be dismissing the signing line by row beginning with the front row.
Attendees must purchase one copy of SUCH A FUN AGE to enter the signing line.
---
ABOUT THE BOOK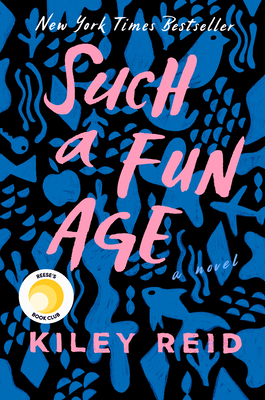 A striking and surprising debut novel from an exhilarating new voice, Such a Fun Age is a page-turning and big-hearted story about race and privilege, set around a young black babysitter, her well-intentioned employer, and a surprising connection that threatens to undo them both.
Alix Chamberlain is a woman who gets what she wants and has made a living, with her confidence-driven brand, showing other women how to do the same. So she is shocked when her babysitter, Emira Tucker, is confronted while watching the Chamberlains' toddler one night, walking the aisles of their local high-end supermarket. The store's security guard, seeing a young black woman out late with a white child, accuses Emira of kidnapping two-year-old Briar. A small crowd gathers, a bystander films everything, and Emira is furious and humiliated. Alix resolves to make things right.
But Emira herself is aimless, broke, and wary of Alix's desire to help. At twenty-five, she is about to lose her health insurance and has no idea what to do with her life. When the video of Emira unearths someone from Alix's past, both women find themselves on a crash course that will upend everything they think they know about themselves, and each other.
With empathy and piercing social commentary,
Such a Fun Age
explores the stickiness of transactional relationships, what it means to make someone "family," the complicated reality of being a grown up, and the consequences of doing the right thing for the wrong reason.
---
ABOUT THE AUTHOR
Kiley Reid earned her MFA from the Iowa Writers' Workshop, where she was awarded the Truman Capote Fellowship and taught undergraduate creative writing workshops with a focus on race and class. Her short stories have been featured in Ploughshares, December, New South, and Lumina. Reid lives in Philadelphia.

$26.00
ISBN: 9780525541905
Availability: On Our Shelves Now
Published: G.P. Putnam's Sons - December 31st, 2019
---
---
GENERAL EVENT NOTES
---
WAITING IN LINE
At some of our well-attended or off-site ticketed events, you can expect to stand in line for upwards of two hours and sometimes longer. If you have an issue that prevents you from standing in line for that length of time, please
contact us immediately
so that we can better accommodate you at the event.
---
PARKING
Limited parking available at the Doylestown Bookshop, but street parking available in surrounding neighborhoods. In addition, free parking available at the Bucks County Parking Garage near the Courthouse on Broad Street. Free day and evening parking. Entrance on Broad Street. Additional entrances on Union and Doyle Streets. More information about parking in Doylestown can be found at
http://www.doylestownborough.net/visitors/parking
.
---
CAN'T MAKE THE EVENT, BUT STILL WANT A SIGNED COPY?
If you can't come to an event and still want an autographed copy of the book, you may purchase titles in advance either in the store, over the phone (215.230.7610), or through our website. When buying online, simply use the checkout comments field to indicate that you would like us to request the author's signature at our event before shipping it to you. Note: If you can't make it to the event, we cannot offer any personalization, only the authors signature.
---
QUESTIONS?
All event-related inquiries can be sent to our Director of Marketing, Events & Schools, Krisy Elisii, at krisyparedes@gmail.com. The views expressed through the books or authors featured online or in-store are not those of the Doylestown or Lahaska Bookshops.