Doylestown: Julie Langsdorf // White Elephant
Wednesday, February 12th at 6:30 p.m.
The Doylestown Bookshop
Book Signing with Julie Langsdorf
Please join us at The Doylestown Bookshop to welcome author Julie Langsdorf for a discussion and book signing for her paperback release of
White Elephant
.
Julie will be in conversation with Doylestown blogger and editor Alyssa Dannaker.
---
ABOUT THE BOOK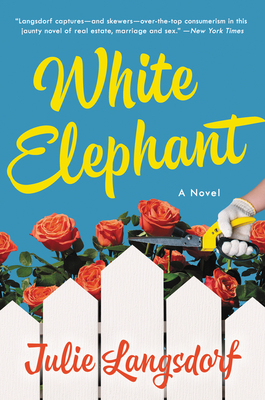 A turf war between neighbors leads to a small-town crisis in this sharply observed debut novel perfect for fans of Tom Perrotta, Meg Wolitzer, and Celeste Ng.
The white elephant looms large over the town of Willard Park: a newly-constructed behemoth of a home, it towers over the quaint houses, including Allison and Ted Millers' tiny hundred year old home. When owner Nick Cox cuts down the Millers' precious red maple—in an effort to make his unsightly property more appealing to buyers—their once serene town becomes a battleground.
While tensions between Ted and Nick escalate, other dysfunctions abound: Allison finds herself compulsively drawn to the man who threatens to upend her quietly organized life. A lawyer with a pot habit and a serious mid-life crisis skirts his responsibilities. And in a quest for popularity, a teenage girl gets caught up in a not-so-harmless prank. Newcomers and longtime residents alike clash in conflicting pursuits of the American Dream, with trees mysteriously uprooted, fingers pointed, and lines drawn.
White Elephant is a tangled-web tale of a community on the verge and its all-too-human inhabitants, who long to connect but can't seem to find the words. It's a story about opposing sides struggling to find a middle ground—a parable for our times.
---
ABOUT THE AUTHOR
Julie Langsdorf's short stories and essays have appeared in Lit Hub and Electric Literature among other publications. She has two children and lives in Washington, D.C.

$16.99
ISBN: 9780062857767
Availability: On Our Shelves Now
Published: Ecco - January 28th, 2020
---
---
GENERAL EVENT NOTES
---
WAITING IN LINE
At some of our well-attended or off-site ticketed events, you can expect to stand in line for upwards of two hours and sometimes longer. If you have an issue that prevents you from standing in line for that length of time, please
contact us immediately
so that we can better accommodate you at the event.
---
PARKING
Limited parking available at the Doylestown Bookshop, but street parking available in surrounding neighborhoods. In addition, free parking available at the Bucks County Parking Garage near the Courthouse on Broad Street. Free day and evening parking. Entrance on Broad Street. Additional entrances on Union and Doyle Streets. More information about parking in Doylestown can be found at
http://www.doylestownborough.net/visitors/parking
.
---
CAN'T MAKE THE EVENT, BUT STILL WANT A SIGNED COPY?
If you can't come to an event and still want an autographed copy of the book, you may purchase titles in advance either in the store, over the phone (215.230.7610), or through our website. When buying online, simply use the checkout comments field to indicate that you would like us to request the author's signature at our event before shipping it to you. Note: If you can't make it to the event, we cannot offer any personalization, only the authors signature.
---
QUESTIONS?
All event-related inquiries can be sent to our Director of Marketing, Events & Schools, Krisy Elisii, at krisyparedes@gmail.com. The views expressed through the books or authors featured online or in-store are not those of the Doylestown or Lahaska Bookshops.