Doylestown: John Vercher // Author Event
Saturday, September 14th at 6:00 pm at the Doylestown Bookshop
Book Launch with John Vercher
Come celebrate the book launch of author JOHN VERCHER's new book THREE-FIFTHS - a riveting novel about race, violence, forgiveness, and the very thing line that divides them.
Three-Fifths is a compelling and timely debut novel from an assured new voice: Three-Fifths is about a biracial black man, passing for white, who is forced to confront the lies of his past while facing the truth of his present when his best friend, just released from prison, involves him in a hate crime.
---
ABOUT THE BOOK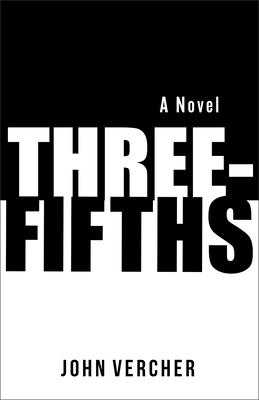 Pittsburgh, 1995. The son of a black father he's never known, and a white mother he sometimes wishes he didn't, twenty-two year-old Bobby Saraceno has passed for white his entire life. Raised by his bigoted maternal grandfather, Bobby has hidden the truth about his identity from everyone, even his best friend and fellow comic-book geek, Aaron, who has just returned home from prison a newly radicalized white supremacist. Bobby's disparate worlds crash when, during the night of their reunion, Bobby witnesses Aaron mercilessly assault a young black man with a brick. Fearing for his safety and his freedom, Bobby must keep the secret of his mixed race from Aaron and conceal his unwitting involvement in the crime from the police. But Bobby's delicate house of cards crumbles when his father enters his life after more than twenty years, forcing his past to collide with his present. Three-Fifths is a story of secrets, identity, violence and obsession with a tragic conclusion that leaves all involved questioning the measure of a man, and was inspired by the author's own experiences with identity as a biracial man during his time as a student in Pittsburgh amidst the simmering racial tension produced by the L.A. Riots and the O.J. Simpson trial in the mid-nineties.
---
ABOUT THE AUTHOR
John Vercher is a writer currently living in the Philadelphia area with his wife and two sons. He holds a Bachelor's in English from the University of Pittsburgh and an MFA in Creative Writing from the Mountainview Master of Fine Arts program. His fiction has appeared on Akashic Books' Mondays are Murder and Fri-SciFi. and he is a contributing writer for Cognoscenti, the thoughts and opinions page of WBUR Boston. Two of his essays published there on race, identity, and parenting were picked up by NPR, and he has appeared on WBUR's Weekend Edition. His non-fiction has also appeared in Entropy Magazine. You can find him on his website www.johnvercherauthor.com and on Twitter at @jverch75.
---
GENERAL EVENT NOTES
---
WAITING IN LINE
At some of our well-attended or off-site ticketed events, you can expect to stand in line for upwards of two hours and sometimes longer. If you have an issue that prevents you from standing in line for that length of time, please
contact us immediately
so that we can better accommodate you at the event.
---
PARKING
Limited parking available at the Doylestown Bookshop, but street parking available in surrounding neighborhoods. In addition, free parking available at the Bucks County Parking Garage near the Courthouse on Broad Street. Free day and evening parking. Entrance on Broad Street. Additional entrances on Union and Doyle Streets. More information about parking in Doylestown can be found at
http://www.doylestownborough.net/visitors/parking
.
---
CAN'T MAKE THE EVENT, BUT STILL WANT A SIGNED COPY?
If you can't come to an event and still want an autographed copy of the book, you may purchase titles in advance either in the store, over the phone (215.230.7610), or through our website. When buying online, simply use the checkout comments field to indicate that you would like us to request the author's signature at our event before shipping it to you. Note: If you can't make it to the event, we cannot offer any personalization, only the authors signature.
---
QUESTIONS?
All event-related inquiries can be sent to our Director of Marketing, Events & Schools, Krisy Elisii, at krisyparedes@gmail.com. The views expressed through the books or authors featured online or in-store are not those of the Doylestown or Lahaska Bookshops.