Doylestown: J.A. White // Writing Workshop & Book Signing
SATURDAY, OCTOBER 26TH @ 1:00 PM - DOYLESTOWN BOOKSHOP
BOOK SIGNING & WRITING WORKSHOP
J.A. White, known for his bestselling series', THE THICKETY and NIGHTBOOKS, will be visiting the bookshop to conduct a writing workshop and sign copies of the first book in his new series, SHADOW SCHOOL: ARCHIMANCY — A new spooky series from the acclaimed author of Nightbooks and The Thickety, perfect for fans of Neil Gaiman, Adam Gidwitz, and Stranger Things!
SPOOKY WRITING WORKSHOP:
Before he signs copies of his books, JA White will be conducting a free workshop where kids will learn what makes scary stories different than other types of fiction, how to generate suspense, and the importance of setting and tone. There will also be a writing exercise involving an evil box and lots of bad jokes. In the end, participants will come up with a summary for a spooky story that they can write at home! -
RSVP TO ATTEND THE SPOOKY WRITING WORKSHOP
-
---
ABOUT THE BOOK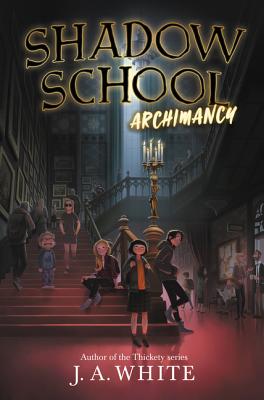 Cordelia Liu knew Shadow School was going to be different. Still, she didn't expect the school grounds to be filled with ghosts.
Cordelia soon realizes she's not the only one who can see the ghosts; her new friend Benji can too. Together with super-smart Agnes, the trio are determined to find out why the ghosts are there, and whether there's a way to set them free.
But the school was created with more sinister intentions, and someone is willing to go to extreme lengths to ensure that the ghosts remain trapped forever.
J. A. White's Nightbooks has been praised as "equally twisting and terrifying" in a School Library Journal starred review. Kirkus added: "A thrilling tale of magic that is just scary enough." Middle grade readers will love J. A. White's Shadow School series as well!
---
ABOUT THE AUTHOR
J. A. White is the author of The Thickety: A Path Begins. He lives in New Jersey with his wife, three sons, and a hamster named Ophelia that doesn't like him very much. When he's not making up stories, he teaches a bunch of kids how to make up stories (along with math and science and other important stuff). He wishes dragons were real because it would be a much cooler way to get to work.
---
GENERAL EVENT NOTES
---
WAITING IN LINE
At some of our well-attended or off-site ticketed events, you can expect to stand in line for upwards of two hours and sometimes longer. If you have an issue that prevents you from standing in line for that length of time, please
contact us immediately
so that we can better accommodate you at the event.
---
PARKING
Limited parking available at the Doylestown Bookshop, but street parking available in surrounding neighborhoods. In addition, free parking available at the Bucks County Parking Garage near the Courthouse on Broad Street. Free day and evening parking. Entrance on Broad Street. Additional entrances on Union and Doyle Streets. More information about parking in Doylestown can be found at
http://www.doylestownborough.net/visitors/parking
.
---
CAN'T MAKE THE EVENT, BUT STILL WANT A SIGNED COPY?
If you can't come to an event and still want an autographed copy of the book, you may purchase titles in advance either in the store, over the phone (215.230.7610), or through our website. When buying online, simply use the checkout comments field to indicate that you would like us to request the author's signature at our event before shipping it to you. Note: If you can't make it to the event, we cannot offer any personalization, only the authors signature.
---
QUESTIONS?
All event-related inquiries can be sent to our Director of Marketing, Events & Schools, Krisy Elisii, at krisyparedes@gmail.com. The views expressed through the books or authors featured online or in-store are not those of the Doylestown or Lahaska Bookshops.