Doylestown: In Conversation with Delilah S. Dawson, Kevin Hearne, and Chuck Wendig
MONDAY, OCTOBER 7TH @ 7:00 PM - DOYLESTOWN BOOKSHOP
DELILAH S. DAWSON & KEVIN HEARNE IN CONVERSATION WITH CHUCK WENDIG
Delilah S. Dawson and Kevin Hearne, authors of
Kill the Farm Boy
and
No Country for Old Gnomes
, will be visiting the bookshop for a conversation with Chuck Wendig and afterward will sign copies of their latest book,
THE PRINCESS BEARD — This is not a story about finding true love's kiss—it's a story about finding yourself. On a pirate ship. Where you belong.
---
ABOUT THE BOOKS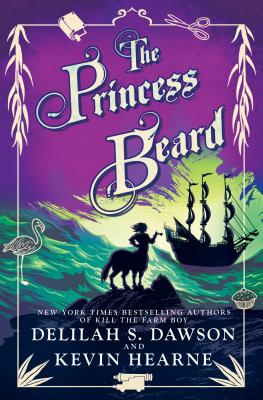 Once upon a time, a princess slept in a magical tower cloaked in thorns and roses.
When she woke, she found no Prince Charming, only a surfeit of hair and grotesquely long fingernails—which was, honestly, better than some creep who acted without consent. She cut off her long braids and used them to escape. But she kept the beard because it made a great disguise.
This is not a story about finding true love's kiss—it's a story about finding yourself. On a pirate ship. Where you belong.
But these are no ordinary pirates aboard The Puffy Peach, serving under Filthy Lucre, the one-eyed parrot pirate captain. First there's Vic, a swole and misogynistic centaur on a mission to expunge himself of the magic that causes him to conjure tea and dainty cupcakes in response to stress. Then there's Tempest, who's determined to become the first dryad lawyer—preferably before she takes her ultimate form as a man-eating tree. They're joined by Alobartalus, an awkward and unelfly elf who longs to meet his hero, the Sn'archivist who is said to take dictation directly from the gods of Pell. Throw in some mystery meat and a dastardly capitalist plot, and you've got one Pell of an adventure on the high seas!
In this new escapade set in the magical land of Pell, Delilah S. Dawson and Kevin Hearne lovingly skewer the tropes of fairy tales and create a new kind of fantasy: generous, gently humorous, and inclusive. There might also be otters.
---
ABOUT THE AUTHOR
Delilah S. Dawson is the author of the New York Times bestseller Star Wars: Phasma, Hit, Servants of the Storm, the Blud series, the creator-owned comics Ladycastle and Sparrowhawk, and the Shadow series (written as Lila Bowen). She lives in Florida with her family and a fat mutt named Merle.

Kevin Hearne hugs trees, pets doggies, and rocks out to heavy metal. He also thinks tacos are a pretty nifty idea. He is the author of A Plague of Giants and the New York Times bestselling Iron Druid Chronicles series.
---
GENERAL EVENT NOTES
---
WAITING IN LINE
At some of our well-attended or off-site ticketed events, you can expect to stand in line for upwards of two hours and sometimes longer. If you have an issue that prevents you from standing in line for that length of time, please
contact us immediately
so that we can better accommodate you at the event.
---
PARKING
Limited parking available at the Doylestown Bookshop, but street parking available in surrounding neighborhoods. In addition, free parking available at the Bucks County Parking Garage near the Courthouse on Broad Street. Free day and evening parking. Entrance on Broad Street. Additional entrances on Union and Doyle Streets. More information about parking in Doylestown can be found at
http://www.doylestownborough.net/visitors/parking
.
---
CAN'T MAKE THE EVENT, BUT STILL WANT A SIGNED COPY?
If you can't come to an event and still want an autographed copy of the book, you may purchase titles in advance either in the store, over the phone (215.230.7610), or through our website. When buying online, simply use the checkout comments field to indicate that you would like us to request the author's signature at our event before shipping it to you. Note: If you can't make it to the event, we cannot offer any personalization, only the authors signature.
---
QUESTIONS?
All event-related inquiries can be sent to our Director of Marketing, Events & Schools, Krisy Elisii, at krisyparedes@gmail.com. The views expressed through the books or authors featured online or in-store are not those of the Doylestown or Lahaska Bookshops.