Doylestown: Brock Clark // Author Event
Thursday, September 12th, 6:30 pm
Doylestown Bookshop
Author Event with Brock Clarke
Brock Clarke, author of bestselling An Arsonist's Guide to Writers' Homes in New England, will be at the bookshop to talk about a sign copies of his new novel, WHO ARE YOU, CALVIN BLEDSOE - a modern-day take on Graham Greene's classic Travels with My Aunt, a novel about grabbing life, and holding on—wherever it may take you.
"A story in which anything and everything can happen, and mostly does. This is a book of many trips--across oceans, back to the past, and, most profoundly, into the infinite deep space of the human heart. Brock Clarke has given us a wonderful novel that bursts with all the meaty stuff of real life." —Ben Fountain, author of Billy Lynn's Long Halftime Walk
---
ABOUT THE BOOK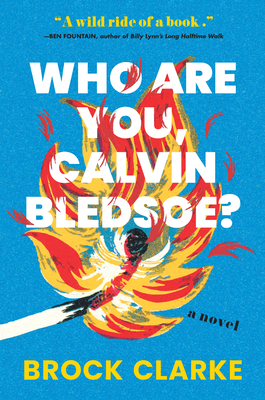 Calvin Bledsoe's journey begins with the death of his mother. An internationally known theologian and an expert on all things John Calvin, she had been the dominant force in her son's existence, so much so that he never left home—even when he married—and, as a result, never grew up.
At his mother's funeral, Calvin is introduced to his aunt Beatrice, a woman he had not even known existed. Beatrice immediately makes it clear to Calvin that she is now in charge of his life, and the first thing she is going to do is whisk him off to Europe with her for a grand adventure.
As Calvin and his aunt traverse the continent, it becomes apparent that her clandestine behavior is leading leading him into danger. Facing a menagerie of antiquities thieves, secret agents, religious fanatics, and an ex-wife who is stalking him, Calvin begins to suspect there might be some meaning behind the madness. Maybe he's not the person he thought he was? Perhaps no one is ever who they appear to be? But there's little time for soul-searching, as Calvin first has to figure out why he has been kidnapped, why his aunt has disappeared, and who the hell burned down his house in Maine.
Powered by pitch-perfect dialogue, lovable characters, and surprising optimism,
Who Are You, Calvin Bledsoe?
is a modern-day take on Graham Greene's classic
Travels with My Aunt
, a novel about grabbing life, and holding on—wherever it may take you.
---
ABOUT THE AUTHOR
Brock Clarke is an award-winning author of seven previous works of fiction, including the bestselling An Arsonist's Guide to Writers' Homes in New England. He lives in Maine, and teaches at Bowdoin College
Other books by Brock Clarke
---
GENERAL EVENT NOTES
---
WAITING IN LINE
At some of our well-attended or off-site ticketed events, you can expect to stand in line for upwards of two hours and sometimes longer. If you have an issue that prevents you from standing in line for that length of time, please
contact us immediately
so that we can better accommodate you at the event.
---
PARKING
Limited parking available at the Doylestown Bookshop, but street parking available in surrounding neighborhoods. In addition, free parking available at the Bucks County Parking Garage near the Courthouse on Broad Street. Free day and evening parking. Entrance on Broad Street. Additional entrances on Union and Doyle Streets. More information about parking in Doylestown can be found at
http://www.doylestownborough.net/visitors/parking
.
---
CAN'T MAKE THE EVENT, BUT STILL WANT A SIGNED COPY?
If you can't come to an event and still want an autographed copy of the book, you may purchase titles in advance either in the store, over the phone (215.230.7610), or through our website. When buying online, simply use the checkout comments field to indicate that you would like us to request the author's signature at our event before shipping it to you. Note: If you can't make it to the event, we cannot offer any personalization, only the authors signature.
---
QUESTIONS?
All event-related inquiries can be sent to our Director of Marketing, Events & Schools, Krisy Elisii, at krisyparedes@gmail.com. The views expressed through the books or authors featured online or in-store are not those of the Doylestown or Lahaska Bookshops.