Doylestown: Author Event with Bill D'Anjolell
Wednesday, January 22nd at 6:30 pm
Doylestown Bookshop
Book Signing with Bill D'Anjolell
Come out to the Doylestown Bookshop for a special event with antique dealer BILL D'ANJOLELL, who will be at the bookshop to sign copies of his new book, MY ANTIQUES JOURNEY, as well as leading a discussion downsizing and selling your unwanted things.
Downsizing and Selling your unwanted things
How and where to sell your items.
Dealing with buyers in your home.
Do they need to be appraised first?
What about auction houses and which ones are best.
What's honest?
Who should I call?
---
ABOUT THE BOOK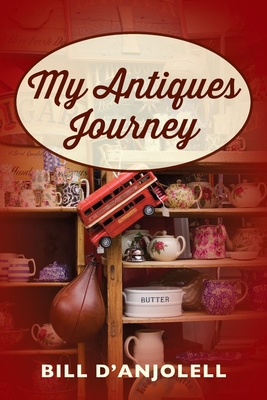 This is everything you need to know about buying and selling antiques whether you're a collector or a dealer. It also explains the behind the scenes an antiques show, an Appraisal Roadshow, with lots of antiques and collectible values on a variety of genres. It contains the best antiques stores and auction houses in the Philadelphia/Bucks County/Cape May County area. This is where dealers and collectors get much of their merchandise including a good reference as to what's hot and what's not.
You will also find an autobiography of one particular antiques dealer and appraiser including some anecdotal stories about growing up in Philadelphia, his life in the Antiques world, and the sometimes interesting and eclectic people he has met along the way.
---
ABOUT THE AUTHOR
BILL D'ANJOLELL HAS:
- Lived in Newtown, PA for the last 30 years and lived in Bucks County almost his whole life.
-Graduated from Rider University with a B.S. in Management & Organizational Behavior.
-Married with two daughters.
-an antiques dealer for 25 years as Imagine Antiques
-a certified Personal Property appraiser for 12 years
-currently the president of the Bucks County Antiques Dealers Association
-the manager of the (BCADA) Bucks County Antiques Dealers Association annual antiques show in New Hope, PA
-a member of the Pennsylvania Antiques Appraisers Association
-a member of the Washington Crossing Card Collectors Club.
-an auctioneer for the (WC4) Washington Crossing Card Collectors Club monthly meeting
-Taught antiques courses and given lectures at Delaware Valley University, Shir Ami Synagogue, local Libraries and other locales.
---
GENERAL EVENT NOTES
---
WAITING IN LINE
At some of our well-attended or off-site ticketed events, you can expect to stand in line for upwards of two hours and sometimes longer. If you have an issue that prevents you from standing in line for that length of time, please
contact us immediately
so that we can better accommodate you at the event.
---
PARKING
Limited parking available at the Doylestown Bookshop, but street parking available in surrounding neighborhoods. In addition, free parking available at the Bucks County Parking Garage near the Courthouse on Broad Street. Free day and evening parking. Entrance on Broad Street. Additional entrances on Union and Doyle Streets. More information about parking in Doylestown can be found at
http://www.doylestownborough.net/visitors/parking
.
---
CAN'T MAKE THE EVENT, BUT STILL WANT A SIGNED COPY?
If you can't come to an event and still want an autographed copy of the book, you may purchase titles in advance either in the store, over the phone (215.230.7610), or through our website. When buying online, simply use the checkout comments field to indicate that you would like us to request the author's signature at our event before shipping it to you. Note: If you can't make it to the event, we cannot offer any personalization, only the authors signature.
---
QUESTIONS?
All event-related inquiries can be sent to our Director of Marketing, Events & Schools, Krisy Elisii, at krisyparedes@gmail.com. The views expressed through the books or authors featured online or in-store are not those of the Doylestown or Lahaska Bookshops.