*CANCELLED*Doylestown: Gina Loveless // Diary of a 5th Grade Outlaw
WE ARE WORKING ON SCHEDULING A VIRTUAL EVENT WITHT THE AUTHOR, DETAILS TBA
Saturday, May 16th at 12:00 PM
The Doylestown Bookshop
Discussion and Book Signing with Gina Loveless
Please join us at The Doylestown Bookshop to welcome author Gina Loveless for a book signing, discussion, and coloring activities for her latest release,
Diary of a 5th Grade Outlaw.
We hope to see you there!
---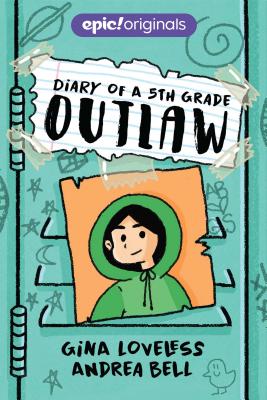 ABOUT THE BOOK:
Robin Loxley, the 5th grade outlaw of Nottingham Elementary, tells all! From Epic! Originals comes a comic-inspired illustrated novel series that treats growing up as an adventure.

Fifth grade has just started, and the school bully, Nadia, already rules recess with an unfair Playground Tax. Robin refuses to be pushed around, but all she can think about is winning back her best friend, Mary Ann, after a disastrous fallout over the summer. To do so, she will have to stand up to Nadia, face the wrath of Assistant Principal Johnson, and become a legendary outlaw at Nottingham Elementary—all while forming a merry band of new friends along the way.
Gina Loveless fell in love with kids' books when she was eight and fell back in love with them when she was twenty-eight. She earned her MFA in Creative Writing from California Institute of the Arts and resides in eastern Pennsylvania.

$13.99
ISBN: 9781524855482
Availability: Usually Arrives to Store in 1-5 Days
Published: Andrews McMeel Publishing - September 10th, 2019
---

$13.99
ISBN: 9781524855741
Availability: Usually Arrives to Store in 1-5 Days
Published: Andrews McMeel Publishing - April 14th, 2020
---
---
GENERAL EVENT NOTES
---
WAITING IN LINE
At some of our well-attended or off-site ticketed events, you can expect to stand in line for upwards of two hours and sometimes longer. If you have an issue that prevents you from standing in line for that length of time, please
contact us immediately
so that we can better accommodate you at the event.
---
PARKING
Limited parking available at the Doylestown Bookshop, but street parking available in surrounding neighborhoods. In addition, free parking available at the Bucks County Parking Garage near the Courthouse on Broad Street. Free day and evening parking. Entrance on Broad Street. Additional entrances on Union and Doyle Streets. More information about parking in Doylestown can be found at
http://www.doylestownborough.net/visitors/parking
.
---
CAN'T MAKE THE EVENT, BUT STILL WANT A SIGNED COPY?
If you can't come to an event and still want an autographed copy of the book, you may purchase titles in advance either in the store, over the phone (215.230.7610), or through our website. When buying online, simply use the checkout comments field to indicate that you would like us to request the author's signature at our event before shipping it to you. Note: If you can't make it to the event, we cannot offer any personalization, only the authors signature.
---
QUESTIONS?
All event-related inquiries can be sent to our Director of Marketing, Events & Schools, Krisy Elisii, at krisyparedes@gmail.com. The views expressed through the books or authors featured online or in-store are not those of the Doylestown or Lahaska Bookshops.