*CANCELLED* Lahaska: Mike Brill // HELLO MY NAME IS SANTA
*CANCELLED*
SUNDAY, DECEMBER 1ST @ 3:00 PM - LAHASKA BOOKSHOP
BOOK SIGNING
Local author Mike Brill will be at the Lahaska Bookshop signing copies of his new book Hello My Name Is Santa which produces four voices in one book-trauma, addictions, recovery, and clinical voices.
ABOUT THE BOOK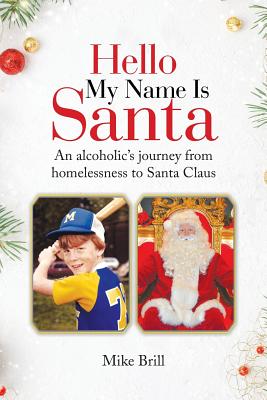 Hello My Name is Santa produces Brill's four voices in one book-trauma, addictions, recovery, and clinical voices. Brill honestly reveals himself as a victim and survivor of childhood and other trauma throughout his life. He openly shares his fifteen-year battle and demise with addictions leading to homelessness. Read of his fortitude and resilient journey through recovery and spiritual development to inspire others on their path of healing. As a licensed clinical professional, Brill's final voice pushes for advocacy in returning to the holistic treatment of human beings through focused research-based trauma treatment for people suffering from substance use disorders. Join Brill as he shares the vivid triumphant stories of his world travels, especially his rite of passage in Bali, Indonesia, where his self and worldview changed for the positive. Read about his musical experiences following The Grateful Dead and his own contribution of musically preserving the musical legacy of the Dead. His vivid storytelling highlights his healing through the power of spiritual exploration and experiential education. Throughout the book, Brill skillfully and equally enthusiastically writes about his entire positive and negative life experiences in addictions and recovery being equal contributors and assets to the man he is today. He conveys a message that everything truly happens for a reason and there are always lessons to be learned. Throughout Brill's recovery, he has experienced a multitude of blessings and achievements, but it was the timing and heartfelt experience of playing the cherished role of Santa Claus in 2017 that initiated his energy to share his story in this creation. Let Brill's tragedies and achievements mutually inspire hope and direction for better lives today and tomorrow.
---
ABOUT THE AUTHOR
Mike Brill, MS, LPC, NCC, CCTP was born in Northeast Philadelphia, now residing in Bucks County, PA. He is a Master's Level, Board Certified, Certified Clinical Trauma Professional and Licensed Professional Counselor in PA and has been working as a Substance Use Disorder Counselor for the past 6 years. He is a Face and Voice of Long Term Recovery representative continuously for over 16 years. He is a professional musician performing weekly live shows in the Philadelphia and New Jersey areas. He is an avid golfer and world traveler. Meditation, spirituality, family, live music, hiking and being outdoors are a few of the cornerstones to Brill's energy towards life's balance and personal creation of Brillism, his personal code of ethics and spiritual principles that guides him in making decisions to not harm himself or other people with his thoughts, words or actions one day at a time. Brill is the youngest of four siblings with three older brothers. He is a graduate of Northeast Catholic High School who's school mantra is the foundation of his recovery and spirituality, Tenui Nec Dimittam, "I have taken hold and will not let go."

$13.99
ISBN: 9781728316499
Availability: On Our Shelves Now
Published: Authorhouse - June 20th, 2019
---
---
GENERAL EVENT NOTES
---
WAITING IN LINE
At some of our well-attended or off-site ticketed events, you can expect to stand in line for upwards of two hours and sometimes longer. If you have an issue that prevents you from standing in line for that length of time, please
contact us immediately
so that we can better accommodate you at the event.
---
PARKING
Limited parking available at the Doylestown Bookshop, but street parking available in surrounding neighborhoods. In addition, free parking available at the Bucks County Parking Garage near the Courthouse on Broad Street. Free day and evening parking. Entrance on Broad Street. Additional entrances on Union and Doyle Streets. More information about parking in Doylestown can be found at
http://www.doylestownborough.net/visitors/parking
.
---
CAN'T MAKE THE EVENT, BUT STILL WANT A SIGNED COPY?
If you can't come to an event and still want an autographed copy of the book, you may purchase titles in advance either in the store, over the phone (215.230.7610), or through our website. When buying online, simply use the checkout comments field to indicate that you would like us to request the author's signature at our event before shipping it to you. Note: If you can't make it to the event, we cannot offer any personalization, only the authors signature.
---
QUESTIONS?
All event-related inquiries can be sent to our Director of Marketing, Events & Schools, Krisy Elisii, at krisyparedes@gmail.com. The views expressed through the books or authors featured online or in-store are not those of the Doylestown or Lahaska Bookshops.