*CANCELLED* Doylestown: Amy Meyerson // The Imperfects
WE ARE WORKING ON SCHEDULING A VIRTUAL EVENT WITH AMY, DETAILS TBD
Wednesday, May 13th at 6:30PM
The Doylestown Bookshop
Book Signing with Amy Meyerson
Please join us at The Doylestown Bookshop to welcome author Amy Meyerson for a discussion and book signing in celebration of her latest release,
The Imperfects.
We hope to see you there!
---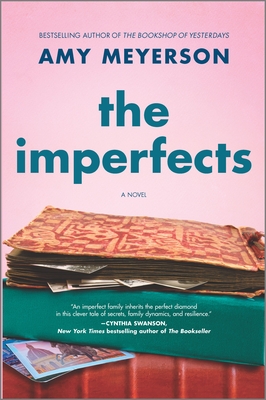 ABOUT THE BOOK:
From the bestselling author of The Bookshop of Yesterdays comes a captivating new novel about a priceless inheritance that leads one family on a life-altering pursuit of the truth.
The Millers are far from perfect. Estranged siblings Beck, Ashley and Jake find themselves under one roof for the first time in years, forced to confront old resentments and betrayals, when their mysterious, eccentric matriarch, Helen, passes away. But their lives are about to change when they find a secret inheritance hidden among her possessions--the Florentine Diamond, a 137-carat yellow gemstone that went missing from the Austrian Empire a century ago.
Desperate to learn how one of the world's most elusive diamonds ended up in Helen's bedroom, they begin investigating her past only to realize how little they know about their brave, resilient grandmother. As the Millers race to determine whether they are the rightful heirs to the diamond and the fortune it promises, they uncover a past more tragic and powerful than they ever could have imagined, forever changing their connection to their heritage and each other.
Inspired by the true story of the real, still-missing Florentine Diamond, The Imperfects illuminates the sacrifices we make for family and how sometimes discovering the truth of the past is the only way to better the future.
Amy Meyerson teaches in the writing department at the University of Southern California, where she completed her graduate work in creative writing. She has been published in numerous literary magazines and currently lives in Los Angeles.

$27.99
ISBN: 9780778305071
Availability: On Our Shelves Now
Published: Park Row - May 5th, 2020
---

$16.99
ISBN: 9780778369080
Availability: On Our Shelves Now
Published: Park Row - May 7th, 2019
---
---
GENERAL EVENT NOTES
---
WAITING IN LINE
At some of our well-attended or off-site ticketed events, you can expect to stand in line for upwards of two hours and sometimes longer. If you have an issue that prevents you from standing in line for that length of time, please
contact us immediately
so that we can better accommodate you at the event.
---
PARKING
Limited parking available at the Doylestown Bookshop, but street parking available in surrounding neighborhoods. In addition, free parking available at the Bucks County Parking Garage near the Courthouse on Broad Street. Free day and evening parking. Entrance on Broad Street. Additional entrances on Union and Doyle Streets. More information about parking in Doylestown can be found at
http://www.doylestownborough.net/visitors/parking
.
---
CAN'T MAKE THE EVENT, BUT STILL WANT A SIGNED COPY?
If you can't come to an event and still want an autographed copy of the book, you may purchase titles in advance either in the store, over the phone (215.230.7610), or through our website. When buying online, simply use the checkout comments field to indicate that you would like us to request the author's signature at our event before shipping it to you. Note: If you can't make it to the event, we cannot offer any personalization, only the authors signature.
---
QUESTIONS?
All event-related inquiries can be sent to our Director of Marketing, Events & Schools, Krisy Elisii, at krisyparedes@gmail.com. The views expressed through the books or authors featured online or in-store are not those of the Doylestown or Lahaska Bookshops.