*CANCELED* Doylestown: John Dobbyn // High Stakes
WE ARE WORKING ON RESCHEDULING THIS EVENT. PLEASE CHECK BACK FOR UPDATES.
Saturday, March 21st at 1:00 p.m.
The Doylestown Bookshop
Book Signing with John Dobbyn
---
ABOUT THE BOOK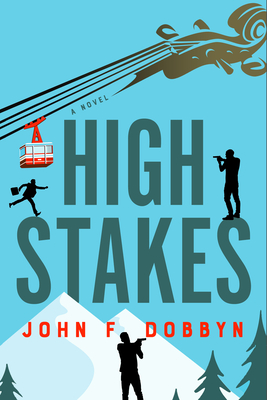 Perfect for fans of Daniel Silva and Steve Berry
An authentic Stradivarius violin turns up in Romania. A Stradivarius is rare enough, but this one is even more special. It is thought to hold the code disclosing the location of a treasure hidden in the fifteenth century. The violin is steeped in haunting mystique: it is believed to have been hidden by Vlad Dracula, whose historic tyranny led to the fabrication of the myth of vampirism. Russian, Chinese, and Romanian gangs centered in Boston want the code and all of them are hot on the trail. Violence is their language—brutality, their technique. And who is hired to see that the treasure lands in the rightful place? None other than Michael Knight with a little help from his senior law partner Lex Devlin and his crony, Billy Coyne, Boston's deputy district attorney.
Michael uses the thin leverage of his knowledge about the violin to keep each of the three gang leaders at bay, while he follows the chain of historic clues from a violin shop in the Carpathian Mountains to a gangster-infested nightclub in Bucharest, to a university in Istanbul, and back to the gang headquarters of the three competing criminal organizations. Secrets from the past and present collide along the perilous shuttle between Boston and Romania. In the end, what is the righteous solution?
---
ABOUT THE AUTHOR
Best-selling author John F. Dobbyn, a graduate of Harvard College, Boston College Law School, and Harvard Law School, is a former professor of law at Villanova Law School where he taught criminal, constitutional, and corporate law. Prior to his teaching career, Dobbyn practiced criminal and civil trial work. He is a frequent contributor to Ellery Queen's Mystery Magazine and Alfred Hitchcock's Mystery Magazine, and he is the author of five award-winning legal thrillers featuring Michael Knight and Lex Devlin. High Stakes is his sixth book in the series. Dobbyn is a Boston native and now resides in Valley Forge, Pennsylvania, with his wife, Lois.

$26.95
ISBN: 9781608093557
Availability: On Our Shelves Now
Published: Oceanview Publishing - October 1st, 2019
---
---
GENERAL EVENT NOTES
---
WAITING IN LINE
At some of our well-attended or off-site ticketed events, you can expect to stand in line for upwards of two hours and sometimes longer. If you have an issue that prevents you from standing in line for that length of time, please
contact us immediately
so that we can better accommodate you at the event.
---
PARKING
Limited parking available at the Doylestown Bookshop, but street parking available in surrounding neighborhoods. In addition, free parking available at the Bucks County Parking Garage near the Courthouse on Broad Street. Free day and evening parking. Entrance on Broad Street. Additional entrances on Union and Doyle Streets. More information about parking in Doylestown can be found at
http://www.doylestownborough.net/visitors/parking
.
---
CAN'T MAKE THE EVENT, BUT STILL WANT A SIGNED COPY?
If you can't come to an event and still want an autographed copy of the book, you may purchase titles in advance either in the store, over the phone (215.230.7610), or through our website. When buying online, simply use the checkout comments field to indicate that you would like us to request the author's signature at our event before shipping it to you. Note: If you can't make it to the event, we cannot offer any personalization, only the authors signature.
---
QUESTIONS?
All event-related inquiries can be sent to our Director of Marketing, Events & Schools, Krisy Elisii, at krisyparedes@gmail.com. The views expressed through the books or authors featured online or in-store are not those of the Doylestown or Lahaska Bookshops.