Book Club: Books & Beer at Lahaska
Books & Beer is a monthly book club that meets on the last Tuesday of each month at Free Will Tap Room in Peddler's Village. This book club is open to everyone and reads a wide range of fiction and non-fiction.
---
Next Meeting: Tuesday, January 29th at 6:30pm at Free Will Tap Room in Peddler's Village
Discussing: The Ghost Map:The Story of London's Most Terrifying Epidemic--and How It Changed Science, Cities, and the Modern World by Steven Johnson
---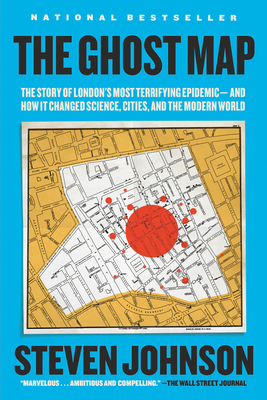 About the Book: It's the summer of 1854, and London is just emerging as one of the first modern cities in the world. But lacking the infrastructure -- garbage removal, clean water, sewers -- necessary to support its rapidly expanding population, the city has become the perfect breeding ground for a terrifying disease no one knows how to cure. As the cholera outbreak takes hold, a physician and a local curate are spurred to action-and ultimately solve the most pressing medical riddle of their time. Read more....
Book club members save 20% off the price of the book.
Questions about the book club? E-mail staff@lahaskabookshop.com.
Previous Selections:
---
GENERAL EVENT NOTES
---
WAITING IN LINE
At some of our well-attended or off-site ticketed events, you can expect to stand in line for upwards of two hours and sometimes longer. If you have an issue that prevents you from standing in line for that length of time, please
contact us immediately
so that we can better accommodate you at the event.
---
PARKING
Limited parking available at the Doylestown Bookshop, but street parking available in surrounding neighborhoods. In addition, free parking available at the Bucks County Parking Garage near the Courthouse on Broad Street. Free day and evening parking. Entrance on Broad Street. Additional entrances on Union and Doyle Streets. More information about parking in Doylestown can be found at
http://www.doylestownborough.net/visitors/parking
.
---
CAN'T MAKE THE EVENT, BUT STILL WANT A SIGNED COPY?
If you can't come to an event and still want an autographed copy of the book, you may purchase titles in advance either in the store, over the phone (215.230.7610), or through our website. When buying online, simply use the checkout comments field to indicate that you would like us to request the author's signature at our event before shipping it to you. Note: If you can't make it to the event, we cannot offer any personalization, only the authors signature.
---
QUESTIONS?
All event-related inquiries can be sent to our Director of Marketing, Events & Schools, Krisy Elisii, at krisyparedes@gmail.com. The views expressed through the books or authors featured online or in-store are not those of the Doylestown or Lahaska Bookshops.