Doylestown: Women's Business Book Club
Join us for a book discussion group for women in business. Each meeting will focus on a business book and will include a guest facilitator for each session, based on the book. Guest facilitators will include businesswomen from the Doylestown and Bucks County community. Come to all sessions or just drop in on a session that sounds interesting to you, no reservations required. Meetings will be held on the third Tuesday of the month from 6:00-7:30 pm. Look forward to seeing you there!
---
Meeting: Tuesday, January 21st at 6:00 pm
Discussing: Thriving Blind by Kristin Smedley
---
Author Kristin Smedley joins the Women's Business Book Club to lead a discussion for her book Thriving Blind.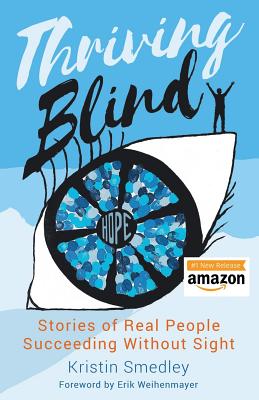 Author Kristin Smedley's journey began with devastation and tears after her two sons were diagnosed as blind when they were each just four months old. Eventually, she met a few people would who change her perception of what is possible for those navigating the world without sight. Those role models were the tipping point for Kristin and her sons to move from surviving blindness, to thriving.
Thriving Blind introduces the reader to thirteen of those pivotal people--including a reality tv star, YouTube sensation and Teacher of the Year
While the stories in Thriving Blind demonstrate how blind people used creativity and determination to live the life of their dreams, the lessons they convey about facing fears and crashing through society's barriers are transformative for all who experience struggles.
Kristin herself applied these lessons to her own journey. She has testified at the FDA for the first ever treatment for vision loss, coordinated the first legislation in US history to be submitted in Braille, and is a highly influential voice around the world for those living with rare eye diseases.

Thriving Blind will transform your idea of what is possible for people who encounter a devastating disability or life challenge and will catapult your motivation to set extraordinary expectations for your own life.
All book club selection are 20% off for Book Club members.