VIRTUAL BOOK CLUB: Infinite Possibilities
Facilitated by The Possibility Coaches, Chris Pattay & Jon Satin, and hosted by The Doylestown Bookshop. This book club meets the 2nd Thursday of each month from 6:30-8:00pm. This is a great opportunity to meet like-minded people and enjoy lively discussion. The books selected each month will be specifically related to the personal growth and development genres. Come and share your wisdom as well as receive new insights.
Already have the book? Please join us. Don't have the book? That's okay. Pre-purchase it by contacting the Doylestown Bookshop at 215-230-7610.
Join anytime. Open to everyone.
---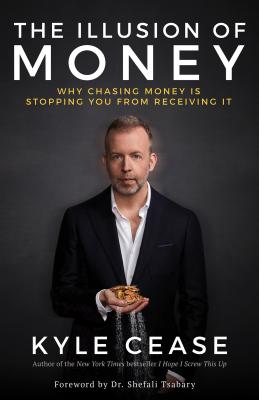 New York Times best-selling author and comedian-turned-motivational speaker, Kyle Cease, shows how your obsession with money is actually preventing you from living the life of your dreams.

"I can't afford that." "Now's not the right time . . . I need to save up." "Quit my job? Are you nuts?!"
Sound familiar? Money is one of the biggest excuses we make to not go after what we really want. Our fixation with money--the desire for more of it, and the fear of not having enough of it--is often really just a longing to feel safe. But this obsession with money is coming at a much bigger cost: our sanity, our creativity, our freedom, and our ability to step into our true power.
This book is about eliminating the need to seek safety through the illusion of money, and learning to see ourselves for the perfection that we are--so that we can bring our gifts to the world in an authentic way, and allow ourselves to receive massive, true abundance as a result.
Kyle Cease has heard excuses like the ones above countless times at his live events, and he has shown people how to completely break through them. In The Illusion of Money, he shares his own experiences as well as practical tools to help readers understand their ingrained beliefs and attachments to money, and how they can tap into our infinite assets and talents.

"After 25 years as a successful comedian, actor, transformational speaker, author and junior-league amateur bowler, I've experienced many times how chasing money is not an effective way to create an abundant and fulfilling life. The most alive I've ever felt was after I left my comedy career at its peak to become a transformational speaker. I left tons of guaranteed money and so-called security for a complete unknown. It was terrifying--but what was on the other side of that terror was a completely different life that is not only more abundant financially, but has more freedom, more ease, more passion, more impact and more joy." -- Kyle Cease
All book club selection are 20% off for book club members.
The Possibility Coaches Jon Satin and Chris Pattay are known as "The Positive Change Experts." They are Life, Relationship and Business Coaches. Chris and Jon assist people to live their lives authentically to the core of their being. Their focus iscreating positive results for individuals over 40 with life's challenges and transitions. Since founding Possibility Coaches in 2002, they have been actively exploring the human experience and condition, and empowering individuals and business owners worldwide to live a life of meaning, passion and purpose. Jon and Chris are the authors of "Living an Inspired, Empowered and Joy-filled Life: 365 Daily Tips to Get You There!" To learn more about them, visit:
www.PossibilityCoaches.com
or call
215-794-0135
.
Upcoming Selections
To Be Determined.....

$19.99
ISBN: 9781401957445
Availability: Usually Arrives to Store in 1-5 Days
Published: Hay House Inc. - September 3rd, 2019
---