Doylestown: Infinite Possibilities Book Club
Facilitated by The Possibility Coaches, Chris Pattay & Jon Satin, and hosted by The Doylestown Bookshop. This book club meets the 2nd Thursday of each month from 6:30-8:00pm. This is a great opportunity to meet like-minded people and enjoy lively discussion. The books selected each month will be specifically related to the personal growth and development genres. Come and share your wisdom as well as receive new insights.
Already have the book? Please join us. Don't have the book? That's okay. Pre-purchase it by contacting the Doylestown Bookshop at 215-230-7610.
Join anytime. Open to everyone.
Meeting Time: Thursday, March 12th at 6:30 pm

Discussing: A Politics of Love by Marianne Williamson
---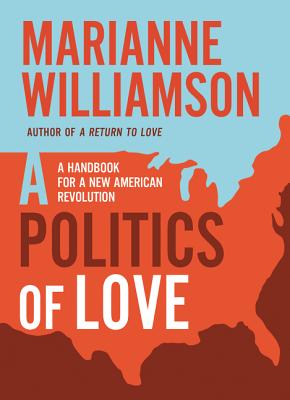 In this stirring call to arms, the activist, spiritual leader, and New York Times bestselling author of the classic A Return to Love confronts the cancerous politics of fear and divisiveness threatening the United States today, urging all spiritually aware Americans to return to—and act out of—our deepest value: love.
America's story is one of great social achievement. From the Abolitionists who fought to outlaw slavery, to the Suffragettes who championed women's right to vote, to the Civil Rights proponents who battled segregation and institutionalized white supremacy, to the proponents of the women's movement and gay rights seeking equality for all, citizens for generations have risen up to fulfill the promise of our nation. Over the course of America's history, these activists have both embodied and enacted the nation's deepest values.
Today, America once again is in turmoil. A spiritual cancer of fear threatens to undo the progress we have achieved. Discord and hatred are dissolving our communal bonds and undermining the spirit of social responsibility—the duty we feel toward one another. In this powerful spiritual manifesto, Marianne Williamson offers a tonic for this cultural malignancy. She urges us to imitate the heroes of our past and live out our deepest spiritual commitment: where some have sown hatred, let us now sow love.
Williamson argues that we must do more than respond to external political issues. We must address the deeper, internal causes that have led to this current dysfunction. We need a new, whole-person politics of love that stems not just from the head but from the heart, not just from intellectual understanding but from a genuine affection for one another. By committing to love, we will make a meaningful contribution to the joyful, fierce and disruptive energies that are rising at this critical point in time. In the words of Abraham Lincoln, "we must think anew, and act anew . . . and then we shall save our country."
All book club selection are 20% off for book club members.
The Possibility Coaches Jon Satin and Chris Pattay are known as "The Positive Change Experts." They are Life, Relationship and Business Coaches. Chris and Jon assist people to live their lives authentically to the core of their being. Their focus iscreating positive results for individuals over 40 with life's challenges and transitions. Since founding Possibility Coaches in 2002, they have been actively exploring the human experience and condition, and empowering individuals and business owners worldwide to live a life of meaning, passion and purpose. Jon and Chris are the authors of "Living an Inspired, Empowered and Joy-filled Life: 365 Daily Tips to Get You There!" To learn more about them, visit:
www.PossibilityCoaches.com
or call 215-794-0135.
Upcoming Selections
To Be Determined.....

$24.99
ISBN: 9780062873934
Availability: On Our Shelves Now
Published: HarperOne - April 23rd, 2019
---