Facilitated by The Possibility Coaches, Chris Pattay & Jon Satin, and hosted by The Doylestown Bookshop. This book club meets the 2nd Thursday of each month from 6:30-8:00pm. This is a great opportunity to meet like-minded people and enjoy lively discussion. The books selected each month will be specifically related to the personal growth and development genres. Come and share your wisdom as well as receive new insights.
Already have the book? Please join us. Don't have the book? That's okay. Pre-purchase it by contacting the Doylestown Bookshop at 215-230-7610.
Join anytime. Open to everyone.
---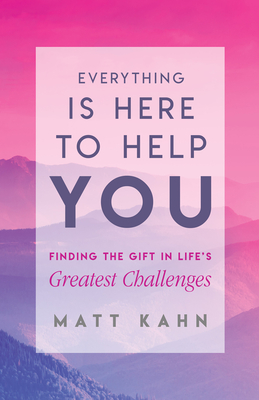 Everything Is Here to Help You offers an emotionally supportive way to shift out of the inner war of ego, and into the illuminated presence of your soul.In this book, spiritual teacher and intuitive Matt Kahn redefines the spiritual path for the modern-day seeker, and offers original, innovative ways to resolve fear, unravel judgments, and learn how to view life from a clear, expanded perspective.
By redefining our understanding of the spiritual journey from the point of view of the soul, Matt breathes fresh life into all aspects of the healing journey to usher in a revolutionary and loving approach to personal growth.Each chapter highlights Matt's most cutting-edge teachings and loving wisdom. From teaching you how to unravel blame by exploring the four stages of surrender, to providing step-by-step energy clearings and recited activations to amplify the power of your consciousness, this book offers a clear road map to explore the magic, mysteries, and miracles that reside in every heart.This book also includes engaging questions to contemplate, as well as energetically encoded mantras to experience our unlimited spiritual potential.Get ready to explore a deeper reality, daring to view your life through the loving eyes of Source and opening yourself up to life's miracles!"No matter how anything seems or appears—everything is here to help you become the one you were born to be."
All book club selection are 20% off for book club members.
The Possibility Coaches Jon Satin and Chris Pattay are known as "The Positive Change Experts." They are Life, Relationship and Business Coaches. Chris and Jon assist people to live their lives authentically to the core of their being. Their focus iscreating positive results for individuals over 40 with life's challenges and transitions. Since founding Possibility Coaches in 2002, they have been actively exploring the human experience and condition, and empowering individuals and business owners worldwide to live a life of meaning, passion and purpose. Jon and Chris are the authors of "Living an Inspired, Empowered and Joy-filled Life: 365 Daily Tips to Get You There!" To learn more about them, visit:
www.PossibilityCoaches.com
or call 215-794-0135.