Doylestown: Infinite Possibilities Book Club
Facilitated by The Possibility Coaches, Chris Pattay & Jon Satin, and hosted by The Doylestown Bookshop. This book club meets the 2nd Thursday of each month from 6:30-8:00pm. This is a great opportunity to meet like-minded people and enjoy lively discussion. The books selected each month will be specifically related to the personal growth and development genres. Come and share your wisdom as well as receive new insights.
Already have the book? Please join us. Don't have the book? That's okay. Pre-purchase it by contacting the Doylestown Bookshop at 215-230-7610.
Join anytime. Open to everyone.
Meeting Time: Thursday, February 13th at 6:30 pm

Discussing: The Brain Fog Fix by Dr. Mike Dow
---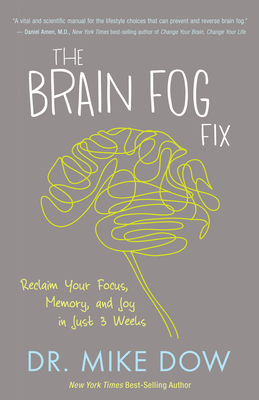 Is stress preventing you from enjoying your daily life? Do you find that you're becoming more distracted or forgetful? Are "the blues" sapping your spirits? Or do you simply feel not quite like yourself? If you want to reclaim your focus, memory, and joy, you're not alone. There are millions of people fighting against the epidemic of brain fog that's sweeping the nation. The good news: It's not an irreparable condition; rather it's a side effect of modern-day living. Many of the foods we eat and the habits we have do not support our brains. We no longer get what we need in order to produce essential brain chemicals that keep us energized, calm, focused, optimistic, and inspired. And even worse, our choices could lead to long-term problems, like dementia, Alzheimer's disease, depression, and anxiety. Sadly, if you look at the way most of us live, it seems almost as though we've chosen a lifestyle deliberately intended to undermine our brain chemistry and our health. Fortunately, there is a solution. The Brain Fog Fix is an easy-to-follow three-week program designed to help naturally restore three of your brain's most crucial hormones: serotonin, dopamine, and cortisol. Rebalancing these chemicals will in turn enable the rest of your brain's chemistry to reach optimal levels. Each week of the program focuses on a different element of your life: •In week 1, you'll improve your mood by modifying your diet and using cognitive strategies to overcome pitfall thought patterns. •In week 2, you'll increase your energy by focusing on sleep, exercise, and memory-boosting games. •In week 3, you'll enhance your spirit through practices that help you connect to something larger than yourself and enable you to rediscover your joy in life.By the end of this simple program, you'll be thinking more clearly, remembering more accurately, learning more quickly, and unleashing the floodgates of your creativity. And you'll simply feel better—for now and in the long term.
All book club selection are 20% off for book club members.
The Possibility Coaches Jon Satin and Chris Pattay are known as "The Positive Change Experts." They are Life, Relationship and Business Coaches. Chris and Jon assist people to live their lives authentically to the core of their being. Their focus iscreating positive results for individuals over 40 with life's challenges and transitions. Since founding Possibility Coaches in 2002, they have been actively exploring the human experience and condition, and empowering individuals and business owners worldwide to live a life of meaning, passion and purpose. Jon and Chris are the authors of "Living an Inspired, Empowered and Joy-filled Life: 365 Daily Tips to Get You There!" To learn more about them, visit:
www.PossibilityCoaches.com
or call 215-794-0135.
Upcoming Selections
To Be Determined.....

$15.99
ISBN: 9781401946487
Availability: On Our Shelves Now
Published: Hay House Inc. - December 13th, 2016
---