Doylestown: Infinite Possibilities Book Club
Facilitated by The Possibility Coaches, Chris Pattay & Jon Satin, and hosted by The Doylestown Bookshop. This book club meets the 2nd Thursday of each month from 6:30-8:00pm. This is a great opportunity to meet like-minded people and enjoy lively discussion. The books selected each month will be specifically related to the personal growth and development genres. Come and share your wisdom as well as receive new insights.
Already have the book? Please join us. Don't have the book? That's okay. Pre-purchase it by contacting the Doylestown Bookshop at 215-230-7610.
Join anytime. Open to everyone.
---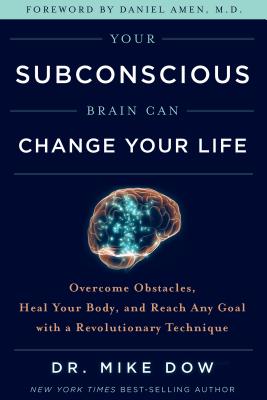 New York Times
best-selling author offers a groundbreaking approach to activate the subconscious brain to set yourself free from your past and create a terrific future. Have you ever been surprised by the power of your subconscious brain? Perhaps it took control of the wheel as your conscious mind was busy tackling a problem during a 30-minute drive home. You barely remember making your way from the office, but then your car ended up safely in your driveway. Perhaps a name escaped you at some point during your day. Despite trying your hardest to remember it, the conscious parts of your brain couldn't retrieve what you were seeking. Then, your subconscious worked its magic and presented you with the answer hours later. It had been hard at work for you this whole time, and you didn't even realize it!
In this book, Dr. Mike Dow shares a program he created: subconscious visualization technique (SVT) and cutting-edge tools to help you learn how to speak directly to your subconscious brain and tap into your greatest strengths, gifts, and resources. His program starts with cognitive therapy, then incorporates various types of subconscious tools: mindfulness, relaxation training, hypnosis, meditation, cognitive rehearsal, and guided imagery.
All book club selection are 20% off for book club members.
The Possibility Coaches Jon Satin and Chris Pattay are known as "The Positive Change Experts." They are Life, Relationship and Business Coaches. Chris and Jon assist people to live their lives authentically to the core of their being. Their focus iscreating positive results for individuals over 40 with life's challenges and transitions. Since founding Possibility Coaches in 2002, they have been actively exploring the human experience and condition, and empowering individuals and business owners worldwide to live a life of meaning, passion and purpose. Jon and Chris are the authors of "Living an Inspired, Empowered and Joy-filled Life: 365 Daily Tips to Get You There!" To learn more about them, visit:
www.PossibilityCoaches.com
or call 215-794-0135.
.