Doylestown: Infinite Possibilities Virtual Book Club
Facilitated by The Possibility Coaches, Chris Pattay & Jon Satin, and hosted by The Doylestown Bookshop. This book club meets the 2nd Thursday of each month from 6:30-8:00pm. This is a great opportunity to meet like-minded people and enjoy lively discussion. The books selected each month will be specifically related to the personal growth and development genres. Come and share your wisdom as well as receive new insights.
Already have the book? Please join us. Don't have the book? That's okay. Pre-purchase it by contacting the Doylestown Bookshop at 215-230-7610.
Join anytime. Open to everyone.
Meeting Time: Thursday, April 9th at 6:30 pm

Discussing: Success is for You by
Dr. David R. Hawkins
This book club will be meeting virtually if you would like to log in here is the information:
---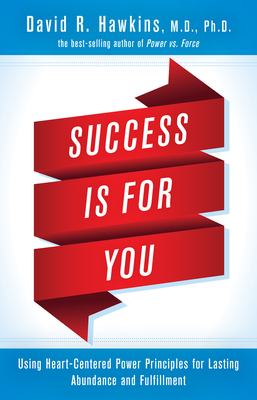 Success Is for You draws upon many concepts that fans of Dr. Hawkins will recognize and applies them to the world of business and the psychology of success. Expanding upon the illuminating discussion of the attractor patterns of success from Power vs. Force, this remarkable never-before-published book pulls back the curtain on the inner workings of the successful mind. Success, according to Dr. Hawkins, is an attitude we inhabit, rather than a goal we strive for. New readers will find this to be a perfect introduction to an incredible teacher and foremost expert on mental processes, providing profound insights and real-world examples to help anyone focus on—and consequently achieve—what they desire. This fascinating book reveals: • The causality formula for success (and deconstruction of so-called failure) • How goodwill can actually turn to profit • Nine acid-test steps to determine our mode of being • How to "get to the top" (and why the destination is really our starting point) Yet its scope ranges far beyond a mere how-to manual. As Dr. Hawkins says, "Having facts and know-how . . . does not guarantee success. There are other factors involved. It is these other secret factors that we are going to explore." The secret factors—the energetic power principles underlying success—are decoded here . . . delivering an eternal message of possibility for us all.
All book club selection are 20% off for book club members.
The Possibility Coaches Jon Satin and Chris Pattay are known as "The Positive Change Experts." They are Life, Relationship and Business Coaches. Chris and Jon assist people to live their lives authentically to the core of their being. Their focus iscreating positive results for individuals over 40 with life's challenges and transitions. Since founding Possibility Coaches in 2002, they have been actively exploring the human experience and condition, and empowering individuals and business owners worldwide to live a life of meaning, passion and purpose. Jon and Chris are the authors of "Living an Inspired, Empowered and Joy-filled Life: 365 Daily Tips to Get You There!" To learn more about them, visit:
www.PossibilityCoaches.com
or call 215-794-0135.
Upcoming Selections
To Be Determined.....

$15.99
ISBN: 9781401951511
Availability: On Our Shelves Now
Published: Hay House Inc. - April 19th, 2016
---