Dark Psychology: The Ultimate Step-by-Step Guide to Read, Analyze and Win People - Dark Psychology, Manipulation Techniques and How to (Paperback)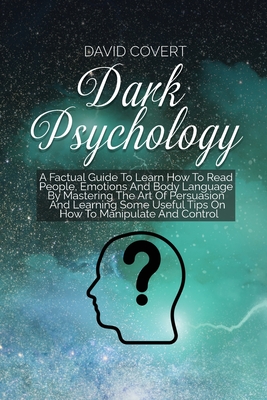 $26.97

Usually Arrives to Store in 1-5 Days
Description
---
Have you ever wondered why the way you communicate is so important? Have you ever questioned whether the way you present information is what the customer is really looking for?
In this book, we'll explore a little known secret about human behavior - it's totally not what you think. You might be surprised by what we have to say on this topic.
Dark psychology is home to over 50+ years of experience. We've learned a thing or two about how people think, and we use that knowledge to create products that are strong, sturdy and perfectly legal.
This book covers:
- The Fundamentals of Dark Psychology
- Common Methods of Dark Psychology
- Best Techniques of Dark Psychology
- Advanced Techniques of Mental Manipulation
- Powerful Covert Emotional Manipulation Techniques
- Dark Seduction
- The Dark Triad
- How to Tell If You Are Emotionally Manipulated
- Neuro-linguistic Programming (NLP) for Influence
- Manipulation and Conversational Hypnosis
And much more
When you don't have time for the legal questions at your work, having a quality product can be very important. It's one thing to have a quality product; it's another thing entirely to have one that actually works in your workplace. That's why Dark psychology has created a wide range of products that are effective across a wide variety of situations. We understand that there are hundreds of different circumstances your tools may be called upon to handle, and we take great pride in having high quality products that will meet your needs in those situations.
Buy it NOW and get addicted to this amazing book