Damned If You Do . . .: The Outrageous Book of Bizarre Choices (Paperback)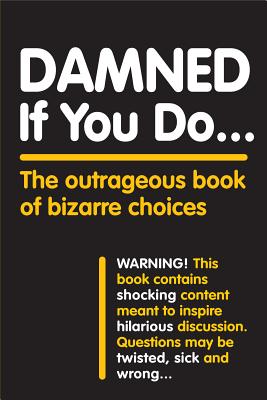 Description
---
Would you rather…

Be rich and stupid or smart and poor?
Have the CIA after you or have the Mafia after you?
Be on vacation with your 60-year-old parents and have your mom insist on wearing a thong bikini or have your dad insist on wearing a tiny, Euro-style bathing suit? 

Warning! This book contains shocking content meant to inspire hilarious discussion. These field-tested conversation starters are guaranteed to provoke ridiculous fun, break the ice, and—if played correctly—open a unique window into the twisted imaginations of friends and family. It's an addictive game in a book that challenges readers to ask—and answer—more than 100 questions that rank from the heinous to the outrageously funny.
 
About the Author
---
Workman Publishing Company has been producing award-winning calendars, cookbooks, parenting guides, and children's titles, as well as gardening, humor, self-help, and business books, since 1968. From our What to Expect® pregnancy and parenting series and Page-A-Day® Calendars to the iconic 1,000 Places to See Before You Die® and Brain Quest® children's products, our wide range of high-quality non-fiction titles and products inspire, educate, and entertain readers around the globe.