Ask a Philosopher: Answers to Your Most Important and Most Unexpected Questions (Hardcover)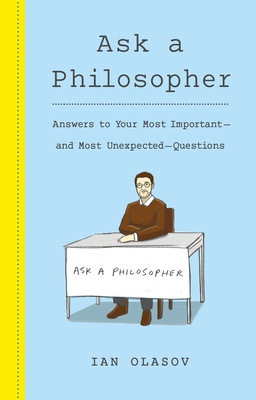 Description
---
A collection of answers to the philosophical questions on people's minds—from the big to the personal to the ones you didn't know you needed answered.

Based on real-life questions from his Ask a Philosopher series, Ian Olasov offers his answers to questions such as:

- Are people innately good or bad?
- Is it okay to have a pet fish?
- Is it okay to have kids?
- Is color subjective?
- If humans colonize Mars, who will own the land?
- Is ketchup a smoothie?
- Is there life after death?
- Should I give money to homeless people?

Ask a Philosopher shows that there's a way of making philosophy work for each of us, and that philosophy can be both perfectly continuous with everyday life, and also utterly transporting. From questions that we all wrestle with in private to questions that you never thought to ask, Ask a Philosopher will get you thinking.
About the Author
---
Ian Olasov is an adjunct professor and doctoral candidate at the City University of New York, Graduate Center. His writing has appeared in Slate, Vox, Public Seminar, and elsewhere.

Olasov won the American Philosophical Association's Public Philosophy Op-Ed Prize in 2016 and 2018. He runs the Ask a Philosopher booth in locations around New York City and lives in Brooklyn, NY.
Praise For…
---
"Based on thousands of interactions on New York City streets, Ian Olasov has written a book about the philosophical curiosities of everyday pedestrians that is sure to delight anyone who loves life's most puzzling questions. I've often wondered what philosophical questions the everyday New Yorker wants to have answered, and I'm even more curious about the answers. To my delight, Ian Olasov has written a book about both! From whether we have free will to whether ketchup is a smoothie, Ian Olasov has written a book responding to the philosophical questions that vex the average New York pedestrian, and his answers are sure to delight and inspire."
--Barry Lam, Associate Professor of Philosophy, Vassar College, and host of the podcast Hi-Phi Nation