The Prepared Home: How to Stock, Organize, and Edit Your Home to Thrive in Comfort, Safety, and Style (Hardcover)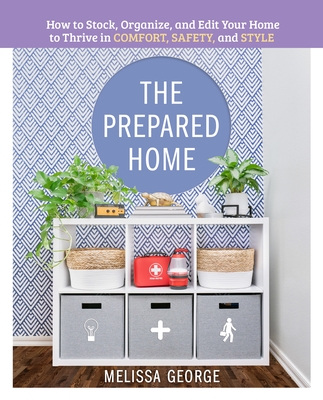 Description
---
Turn your home into a sanctuary

When your home is ready for the many surprises life can bring, your whole family can enjoy everyday moments and stay at their best. Whether there's a power outage, the Wi-Fi goes out, or you are asked to quarantine, The Prepared Home is designed to help you plan and reach preparedness goals without letting them take over your space and your life. It's your full-color guide to a stylish home that feels like a sanctuary in normal and in challenging times. You'll discover how to . . .

·Transform your home from entertaining mode to disaster-ready mode quickly and easily
·Discover clever and aesthetically pleasing ways to store emergency items
·Assess your risks and stock up on all the right things for your household

The Prepared Home by Melissa George is just what you've been looking for to prioritize your needs and take steps to make your home a place of safety, comfort, and beauty!
About the Author
---
Melissa George is the founder of PolishedHabitat.com, a site that teaches readers to blend decor and organization to add stylish function to everyday life. She has expertise in quality improvement, emergency management, and disaster management from her former work as a project specialist for a hospital system in Tulsa, Oklahoma. There, she was named one of the designated hospital Incident Commanders and received FEMA NIMS training. When she's not working on her own house with her creative husband, you'll find Melissa snuggled up with a book and her dogs.