Hold Me Like a Breath: Once Upon a Crime Family (Hardcover)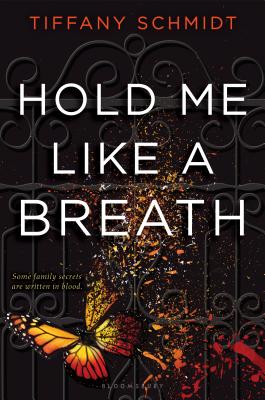 Description
---
In Penelope Landlow's world, almost anything can be bought or sold. She's the daughter of one of the three crime families controlling the black market for organ transplants. Because of an autoimmune disorder that causes her to bruise easily, Penny is considered too "delicate" to handle the family business, or even to step foot outside their estate.

All Penelope has ever wanted is independence--until she's suddenly thrust into the dangerous world all alone, forced to stay one step ahead of her family's enemies. As she struggles to survive the power plays of rival crime families, she learns dreams come with casualties, betrayal hurts worse than bruises, and there's nothing she won't risk for the people she loves.

Perfect for fans of Holly Black and Kimberly Derting, this first book in the stunning new Once Upon a Crime Family series from acclaimed author Tiffany Schmidt will leave readers breathless.
About the Author
---
TIFFANY SCHMIDT is the author of Hold Me Like a Breath, Send Me a Sign, and Bright Before Sunrise. She's a former teacher who's found her happily ever after in Pennsylvania with her saintly husband, impish twin boys, and a pair of mischievous puggles. Visit Tiffany online at www.TiffanySchmidt.com and on Twitter @TiffanySchmidt.
Praise For…
---
"Ambitious and original, Hold Me Like a Breath captured my attention before I even turned the first page. It's a thriller in every sense of the word, and I can't wait to see what Schmidt has up her sleeve next." —Michelle Hodkin, NEW YORK TIMES bestselling author of the Mara Dyer trilogy

"The tightly coiled suspense and superb romance had me holding my breath!" —Jennifer L. Armentrout, #1 NEW YORK TIMES bestselling author of DON'T LOOK BACK and the Lux series

"This book swept me off my feet! Deadly family secrets, tense situations, surprising truths, and captivating romance kept me in suspense from 'Once upon a time' to 'ever after'. Hold Me Like a Breath is a gripping modern thriller for readers who still love fairy tales and people who think they've outgrown them. This is an offer you can't refuse!" —E. C. Myers, author of THE SILENCE OF SIX and FAIR COIN

"This is a sometimes violent, sometimes teen-angsty, sometimes sigh-worthy, and pretty dang awesome modern fairy tale. . . Add this to your must-read pile!" —USA Today's HAPPILY EVER AFTER Blog

"Heartfelt and haunting. Penny is a heroine to root for, a princess who creates her own ever-after." —Jessica Spotswood, author of the Cahill Witch Chronicles

"Schmidt offers a modern-day retelling of the 'The Princess and the Pea' that attempts to cast the princess in a more proactive, less victimized role than is traditional. Penelope does manage to break free of her delicate-flower mode. . . . The romance at the heart of the book is a sweet one. . . . A decent girl-power twist on an old fairy tale for thriller lovers." —Kirkus Reviews

"[A] fairy-tale romance with gangster set dressing . . . . [The] swoonworthy story will appeal to romantic-suspense fans." —Booklist

"Swoonworthy." —Booklist Online

"Action, mystery, and perhaps some romance combine in this thriller reminiscent of Gabrielle Zevin's Because It Is My Blood and The House of the Scorpion by Nancy Farmer." —VOYA

"Loaded with twists and suspense, this is the first in a series, and teens will anxiously await the next book." —School Library Journal

"With its unusual premise and memorable combination of gangsters, deadly secrets, and subtle fairy-tale allusions, this novel offers an adventure with broad appeal. . . This first in a new crime-family series will also thrill romance-loving adventure readers and leave them holding their breath for more." —BCCB