The Shimmering Road (Paperback)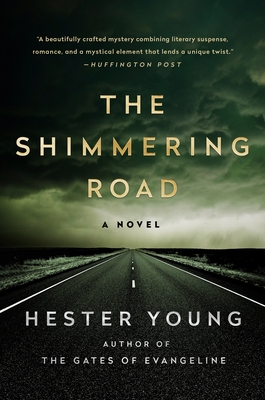 $16.00
Email or call for price
Description
---
Now in paperback, another pulse-pounding mystery featuring Charlotte "Charlie" Cates, an unforgettable heroine whose dark visions bring to light secrets that will heal or destroy those around her...

As she nervously awaits the birth of her daughter, journalist Charlie Cates has better things to do than pine for the woman who abandoned her decades earlier. Yet when her estranged mother turns up dead in Arizona with a sister Charlie never knew she had, Charlie must confront her own painful family history...and face the child left behind. A child who speaks to Charlie in her dreams. A child who was present on the night of the murders. A child with no one else to turn to.

Led by her mysterious gift--a supernatural ability to connect to both the future and the past through dreams and visions--Charlie travels to Tucson and soon unearths new clues about the unsolved double homicide. The search for answers will take her on a hair-raising journey across the Mexican border, from the resort town of Rocky Point to the impoverished border town of Nogales. But time is running out. Haunted by dreams of her unborn child's death, Charlie is forced to grapple with the most frightening question of all: Does seeing the future give you any power to change it?

A gripping, nightmarish thriller set in the heat of the Sonoran Desert, The Shimmering Road takes on racial politics, corruption, and the complexities of motherhood, while delivering plenty of chills.
About the Author
---
Hester Young holds a master's degree in English with a creative writing concentration from The University of Hawai'i at Manoa, and her work has been published in literary magazines such as The Hawai'i Review. Before turning to writing full-time, she worked as a teacher in Arizona and New Hampshire. She lives with her husband and two children in New Jersey.
Praise For…
---
"Whip-smart, adrenaline-fueled….Young deftly uses Charlie's supernatural gift to create tension and dread without relying too heavily on it to advance the plot. And a story line involving Donna's employer—a nonprofit that helps women living in Mexican border towns—both champions charity and gives poverty a human face." –Publishers Weekly

"Hester Young can tell a ghost story in the blistering daylight and still raise the hair on the back of your neck, and that's what she's done with The Shimmering Road....Young has done much like what John Connolly has done with his Charie Parker series, and made the supernatural something much more tangible to the reader, much more believable to the skeptic, and most importantly, she's made the real world all that more beautiful for it." --Brian Panowich, author of Bull Mountain

"Well crafted and captivating." --Booklist (starred review)
 
"A beautifully crafted mystery combining literary suspense, romance, and a mystical element that lends a unique twist." –Huffington Post

"Young incorporates a chillingly complex plot, evocative sense of place and mystically engaging characters to lure her audience into this captivating thriller steeped in spine-tingling action." –Shelf Awareness


Praise for The Gates of Evangeline

"Haunting, heartbreaking, yet ultimately hopeful . . . Young handles the spectral elements with restraint as her tremendously sympathetic heroine seeks to build a new life after death." —Publishers Weekly (starred review)
 
"In this spooky thriller, everyone's a suspect, and the plot twists will keep you guessing." —People
 
"The hothouse atmosphere of Evangeline and the tortuous and tangled motives of its denizens make for an enjoyable puzzle box of a mystery. An eerie but inviting debut." —Kirkus Reviews
 
"In Hester Young's haunted Louisiana, the ghostly labyrinth of the past opens its great doors to deliver up a lush gothic thriller. The Gates of Evangeline is a darkly marvelous debut, a classic whodunit stitched with otherworldly chills." —Jedediah Berry, author of the Hammett Prize–winning The Manual of Detection
 
"What a delicious book! Gripping and atmospheric—with a heart-stopping twist—The Gates of Evangeline is an imaginative blend of southern gothic, family epic, and spooky whodunit. Trust me: you won't just read Hester Young's debut, you will absorb this gorgeous novel using all 'six' senses." —Jillian Medoff, author of I Couldn't Love You More and Hunger Point
 
"Not just a riveting story about the search for a long-missing child. It's also a powerful and haunting examination of a mother's grief and her long road to recovery. Hester Young's protagonist, Charlotte 'Charlie' Cates, is tough and vulnerable, wounded and fearless, and I simply could not stop reading this thrilling, beautifully written southern gothic mystery. I can't wait for the next entry in this captivating new series." —David Bell, author of Cemetery Girl and Somebody I Used to Know
 
"A stunning debut novel. A lyrical, haunting, heart-wrenching work of suspense with echoes of du Maurier, Hitchcock, and King." —Reed Farrel Coleman, author of Robert B. Parker's The Devil
Wins
 
"Step through The Gates of Evangeline with Charlotte Cates, a grief-stricken northerner tasked with uncovering a southern dynasty's dark secrets. Hair-raising and heart-rending, Hester Young's first novel is one of buried shame, of children taken too soon, and, ultimately, of immense true love that binds across the mortal divide." —Miranda Beverly-Whittemore, author of Bittersweet