The Pandemic Century: One Hundred Years of Panic, Hysteria, and Hubris (Hardcover)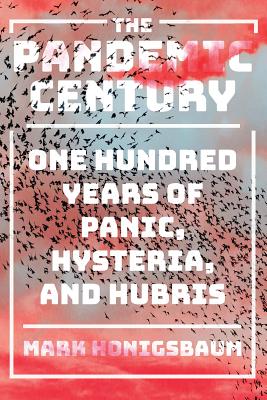 $29.95

Usually Arrives to Store in 1-5 Days
Description
---
A Financial Times Best Book of the Year



A medical historian narrates the last century of scientific struggle against an enduring enemy: deadly contagious disease.
Ever since the 1918 Spanish influenza pandemic, scientists have dreamed of preventing catastrophic outbreaks of infectious disease. Yet despite a century of medical progress, viral and bacterial disasters continue to take us by surprise, inciting panic and dominating news cycles. From the Spanish flu to the 1924 outbreak of pneumonic plague in Los Angeles to the 1930 "parrot fever" pandemic, through the more recent SARS, Ebola, and Zika epidemics, the last one hundred years have been marked by a succession of unanticipated pandemic alarms.
In The Pandemic Century, a lively account of scares both infamous and less known, Mark Honigsbaum combines reportage with the history of science and medical sociology to artfully reconstruct epidemiological mysteries and the ecology of infectious diseases. We meet dedicated disease detectives, obstructive or incompetent public health officials, and brilliant scientists often blinded by their own knowledge of bacteria and viruses. We also see how fear of disease often exacerbates racial, religious, and ethnic tensions—even though, as the epidemiologists Malik Peiris and Yi Guan write, "'nature' remains the greatest bioterrorist threat of all."
Like man-eating sharks, predatory pathogens are always present in nature, waiting to strike; when one is seemingly vanquished, others appear in its place. These pandemics remind us of the limits of scientific knowledge, as well as the role that human behavior and technologies play in the emergence and spread of microbial diseases.
About the Author
---
Mark Honigsbaum is a medical historian, journalist, and author of five books including The Pandemic Century: One Hundred Years of Panic, Hysteria, and Hubris and The Fever Trail: In Search of the Cure for Malaria. He is currently a lecturer at City University of London.
Praise For…
---
[A] riveting, vivid history of modern disease outbreaks....A fascinating account of a deeply important topic—for if the past 100 years have taught us anything, it is that new diseases and viral strains will inevitably beset us, no matter how sophisticated science becomes.
— Robin McKie - The Observer

A lively but less than reassuring read for those on exotic travels.
— Anjana Ahuja - Financial Times

Some of the scenes in Mark Honigsbaum's The Pandemic Century were so vivid they had me drafting movie treatments in my head....Whether familiar or forgotten, parrot fever or Ebola, he finds striking similarities among them. And those similarities ought to make us worried about the next outbreak. If history is any guide, things may not go well.

— Carl Zimmer - New York Times Book Review

Gripping.
— Barbara Kiser - Nature

Mark Honigsbaum does a superb job covering a century's worth of pandemics and the fears they invariably unleash. The moral of his cogent tale is that the next deadly pandemic is not a matter of if but of when, and preparing for that fact is a far better prescription than reacting with panic, fear, or indifference.

— Howard Markel, MD, PhD, George E. Wantz Distinguished Professor of the History of Medicine and director of the Center for the History of Medicine, University of Michigan

An engaging and thoughtful journey through some of the world's greatest medical and social crises in recent decades. Honigsbaum is a worthy historian and guide to these dramatic reminders of human fallibility.
— David L. Heymann, Professor of Infectious Disease Epidemiology, London School of Hygiene and Tropical Medicine

Infectious diseases remain among the most urgent health threats we face, but too often are considered something that happens to other people, far away. In our interconnected world, this is no longer true, as Honigsbaum shows. His unique account drives home the human impact of epidemics, and the need for increased preparedness.
— Jeremy Farrar, Director of the Wellcome Trust

Lively, gruesome, and masterful....Honigsbaum mixes superb medical history with vivid portraits of the worldwide reactions to each [pandemic] event.
— Kirkus (starred review)

Engrossing....Combining history, popular science, and policy, [Honigsbaum] describes each pandemic with journalistic immediacy....An important and timely work.
— Booklist (starred review)

Offers a mixture of gripping storytelling and insightful science....Alternately chilling and optimistic, Honigsbaum's reporting on a recurrent public health issue deserves wide attention.
— Publishers Weekly